Impact of Rankings on SERP CTR
Sunday May 15, 2011

Categories:
There has been very little original research in the area of position-based clickthrough rates (CTR) in search engine result pages (SERP) and most SEO companies still quote outdated information (http://www.seoresearcher.com/distribution-of-clicks-on-googles-serps-and-eye-tracking-analysis.htm) which may not even be relevant anymore. Dejan SEO team has performed new research in this field in May 2011 and announced the latest findings to the rest of the SEO community. Summary of our research is represented in the SERP CTR heatmap below: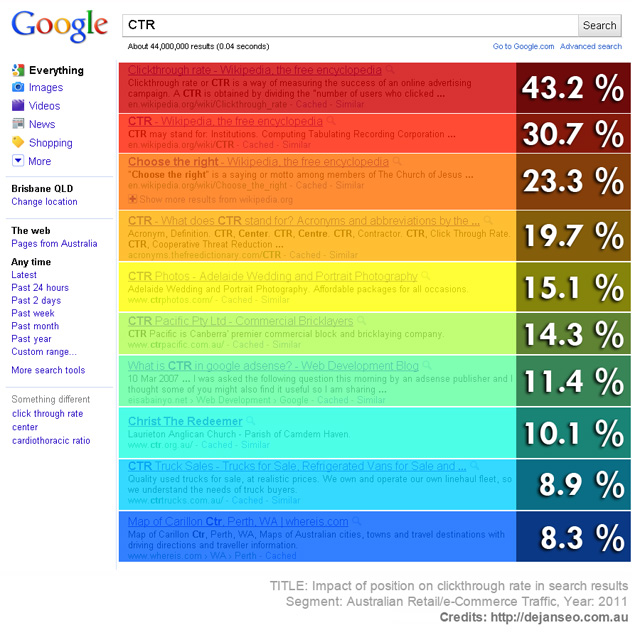 Note: The above figures are separate averages for a range of 50-300 selected phrases for each position and the total does not necessarily need to add up to a 100% value. There are numerous factors which impact CTR values but this goes beyond the scope of our study.
Technical Data:
Search Queries: 1,000,000+
Ranking Pages: ~200 per position
Position Type: Ranking Average
Industry: e-Commerce / Retail
Search Sources: Google (Worldwide)
Domains: Australian (.com.au)
Tools: Google Webmaster Tools, Custom Scripts
Related Research
For more detailed study of CTR factors please read the recently published paper by Optify:
http://www.optify.net/wp-content/uploads/2011/04/Changing-Face-oof-SERPS-Organic-CTR.pdf
CTR Data (Table Format):
| | |
| --- | --- |
| # | CTR |
| 1 | 43.2 % |
| 2 | 30.7 % |
| 3 | 23.3 % |
| 4 | 19.7 % |
| 5 | 15.1 % |
| 6 | 14.3 % |
| 7 | 11.4 % |
| 8 | 10.1 % |
| 9 | 8.9 % |
| 10 | 8.3 % |