There has been much talk about domain hyphenation with Google's response vague as usual. Dejan SEO team put this to test and in conclusion non-hyphenated domains have an advantage over hyphenated ones. For test specifics and results read on.
[styledbox type="general" ]
Update
Results of this test were published on SEOMoz on the 1 May 2011. The status of the ranking domain has changed since then in favour of the hyphenated domain. The advantage of this domain was the first position on the page. Since our test domains did not have their own title tag they inherited anchor text as their title. Notice the discrepancy between the title and the domain (love/loves) which does not seem to represent a problem and Google highlights both as a match in SERPs.
Domains Used
http://dejanseolovestesting.com/
http://dejan-seo-loves-testing.com/
Search Results
Linking Page
Anchor text: "Dejan SEO love testing"
[/styledbox]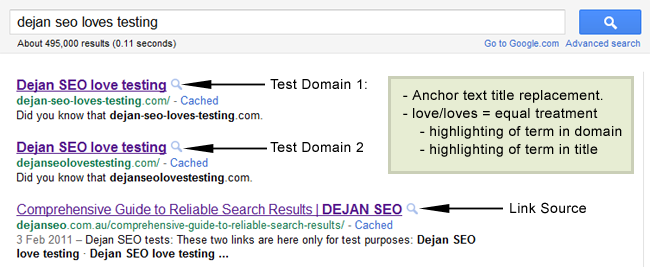 Here are the technical details of the setup:
Domain Registration & Hosting
We registered two domains:
keyword1keyword2keyword3keyword4.com
keyword1-keyword2-keyword3-keyword4.com
They were registered seconds apart and in order as above using same whois information and custom name servers:
ns1.keyword1keyword2keyword3keyword4.com
ns2.keyword1keyword2keyword3keyword4.com
and:
ns1.keyword1-keyword2-keyword3-keyword4.com
ns2.keyword1-keyword2-keyword3-keyword4.com
Both domains were hosted on a different IP of the same C-block.
Content
Both index pages contained only one line in the following format:
Did you know that keyword1keyword2keyword3keyword4.com
Did you know that keyword1-keyword2-keyword3-keyword4.com
No HTML.
Links
Both test domains were linked from the same page on another domain. In the source code of the linking page, the first link was the hyphenated one, giving it the initial (if any) advantage over the other.
Early Results
Day 1: Initial search brings up only dailychanges.com who picked up the domains.
Day 2: No change.
Day 3: Hyphenated domain is in the index, can be found below dailychanges.com
Day 4: Hyphenated domain is in cache, under dailychanges.com still
Day 5: Non-hyphenated domain enters Google index (found through alert), cached and ranking #1
After 3 months: Hyphenated domain gains position #1
Possible Undesired Influences
Non-linked references dailychanges.com
Nofollow references from dailychanges.com
Order of links in HTML of the linking page
Order of domain registration (seconds apart)
Discovery by Googlebot
Similarity of content
None of the above seem to have affected the test.
Dan Petrovic, the managing director of DEJAN, is Australia's best-known name in the field of search engine optimisation. Dan is a web author, innovator and a highly regarded search industry event speaker.
ORCID iD: https://orcid.org/0000-0002-6886-3211
---
---