Conversion rate optimisation encompasses A/B testing, heatmaps and analytics data to highlight key areas of landing page improvement.
Our in-depth studies are designed to discover actionable opportunities on niche websites, payment gateways as well as large and complex sites for corporate brands.
Observe the call to action element above asking for your website address. We introduced it back in 2011 and after hearing about our lead generation increase so many of our competitors copied the method that it became a trend and eventually an industry-standard. Industry leadership comes through continuous innovation and we're always at the edge of the latest in the business of lead generation.
Today, I found the best call to action on an SEO company website I've ever seen. The CRO is impeccable. Their competitors spotted their CTA and began using it as well.
Ross Hudgens
Results
Conversion Rate Optimisation (CRO) aims to continually improve the usability and efficiency of your website's design elements so more clicks and visits become leads and sales. Time and energy spent on generating traffic is potentially wasted if a user's attention is not focussed on the desired call-to-action. Thankfully, there are two things certain in CRO; analytics and testing.
Our expertise in creating and testing landing page elements as well as calling on our selection of analytics data will lead to improved CRO and ultimately, your business' ROI.
Experience
The analytical approach of CRO is something that runs right through the veins of Dejan. We have been testing and implementing CRO tactics and call to action elements on our clients as well our own website to gain a competitive edge since the beginning.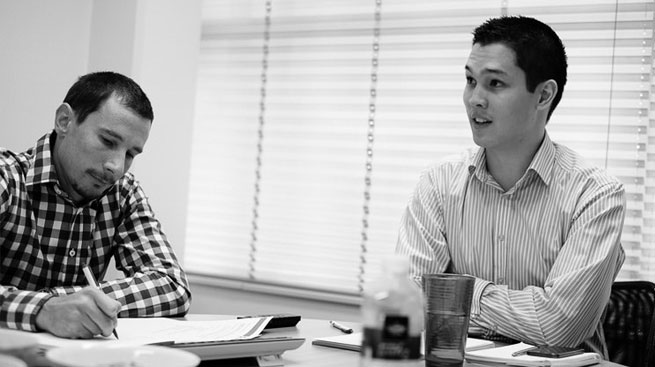 People
Our CRO team includes experienced web designers and strategists who can only be described as maestros with interpreting data and providing the most effective CRO solutions.
Our Approach
We begin CRO by increasing our knowledge of your business.This gives us clear and obtainable goals for your CRO strategy, whether it's gaining leads, sales or social media followers.
Analytical Tools
After prioritising the most important areas of your site to improve, we can start unleashing the arsenal of analytical artillery we have at our disposal.
Heatmaps
These reveal crucial information about how your visitors scroll and navigate your website. After analysing different datasets of heatmaps, we can improve design elements so they lead to your call-to-actions better. These could be as minute as changing the colour of a button or as complex as reversing the whole layout of a page.
A/B testing
A/B testing ensures we are utilising the most effective CRO tactic. There's no such thing as gut-instinct CRO strategies at Dejan. Everything we do is tested, compared and tested again to achieve optimal CRO performance. Once we have undertaken initial CRO activities, it's important that we have at least three months to base our professional judgements on and execute your strategy. This way we can compile a meaningful report that will lead to better customer acquisition and the potential for exponential growth in conversion rates.