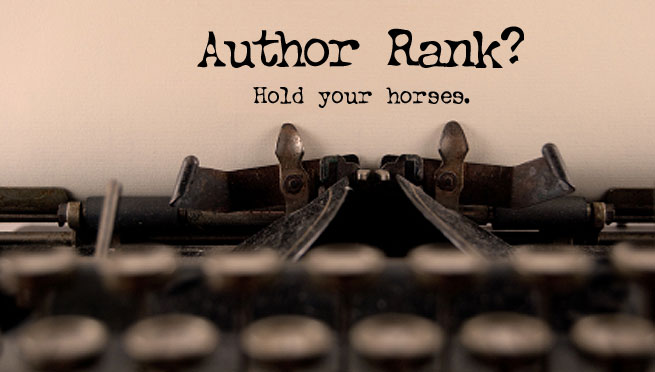 [styledbox type="general" ]Disambiguation: This article is about Author Rank. For our Authorship related articles click here.[/styledbox]
Author Rank is a popular concept in the SEO industry and one of the hottest topics in 2012. What I find strange about the whole thing is that nobody has any shred of proof that Author Rank plays any role in Google's search algorithm today. I figured the best way to find out what's going on is to actually ask somebody at Google – John Mueller.
I followed up by a hypothetical scenario and asked John if it would make any algorithmic difference if I wrote a post on my blog or Larry Page wrote one with verified authorship. According to John, the effect and benefit would be indirect as Larry's post is more likely to be shared and linked to than mine.
The idea of having an immediate boost for a published piece of content on the basis of writer's authority alone seems rather 'wild' to John.
So there you have it, even though much research has been done in this area, it appears that Google is not yet using Author Rank in its ranking algorithm.
When it does become a factor, we'll surely be able to read about it on Google's official blog.
Hangout Recording
The discussion about Author Rank starts at 12:50:
Authorship, Rich Snippets & Author Rank
September, 2012
Guest Panel: Bill Slawski, AJ Kohn & Mark Traphagen.
We're discussing impact on CTR in search results, implementation statistics and the issue of rich snippet and review spam. We'll use real data samples in our demonstration. The second part of the hangout will be dedicated to discussion about authorship as a search engine quality signal and the much debated concept of "AuthorRank". Slides: https://dejanmarketing.com/wp-content/uploads/2012/09/Authorship-Hangout.pdf
Dan Petrovic, the managing director of DEJAN, is Australia's best-known name in the field of search engine optimisation. Dan is a web author, innovator and a highly regarded search industry event speaker.
ORCID iD: https://orcid.org/0000-0002-6886-3211
---
---
---