While managing our Google+ page today I noticed an ad for Adwords Express in the promo bar. It was suggesting that I can pay for more followers through advertising in search, maps and mobile (display is also available).
Right click revealed the following URL for the promo image: https://ssl.gstatic.com/s2/oz/images/promos/awx-32.png (AWX = AdWords Express). This was interesting enough to investigate further.
There seems to be a bunch of blocks allocated for various sidebar promotions, in my case only few were activated, the AWX ad was in the slot "65":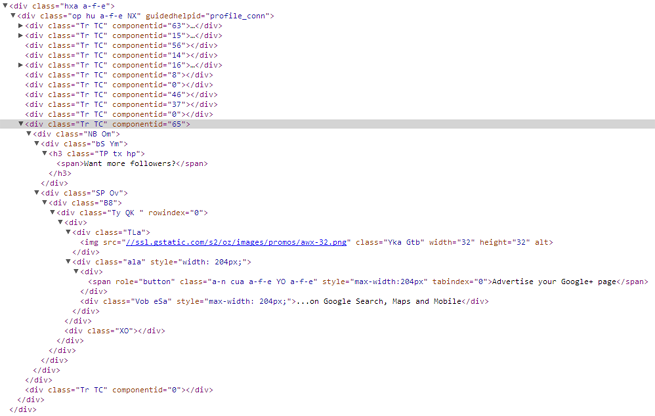 Click on the ad takes you to a signup funnel with the following information/educational message:
Get customers to your Google+ page
AdWords Express is the easiest way to start marketing your small business
Connect with new customers
We'll show your Google+ page to potential customers the instant they are looking for you – on Google Search, Maps, Mobile and more.
You only pay for success
Control how much to spend at all times, and pay only when customers visit your page.
We'll do the work for you
Tell us a bit about your business and we'll find the best places to promote it. No need to worry about keywords, bids or placements.
I thought the message screen was rather pretty and fairly convincing, here's the screenshot: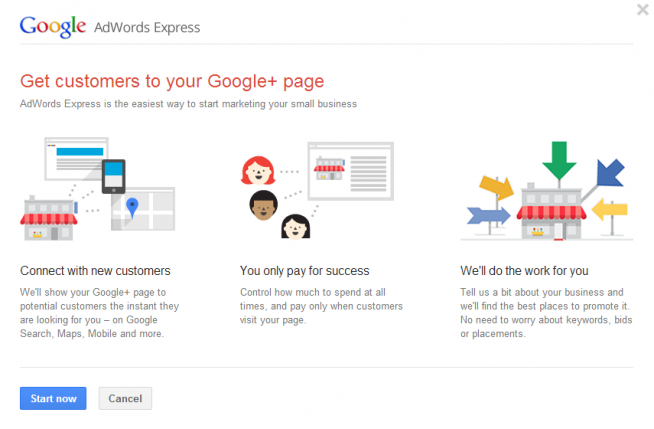 Once you click "Start Now" you're officially in the setup wizard which takes you through the following steps:
Select your audience
Create your ad
Set your budget
Review your promotion
Checkout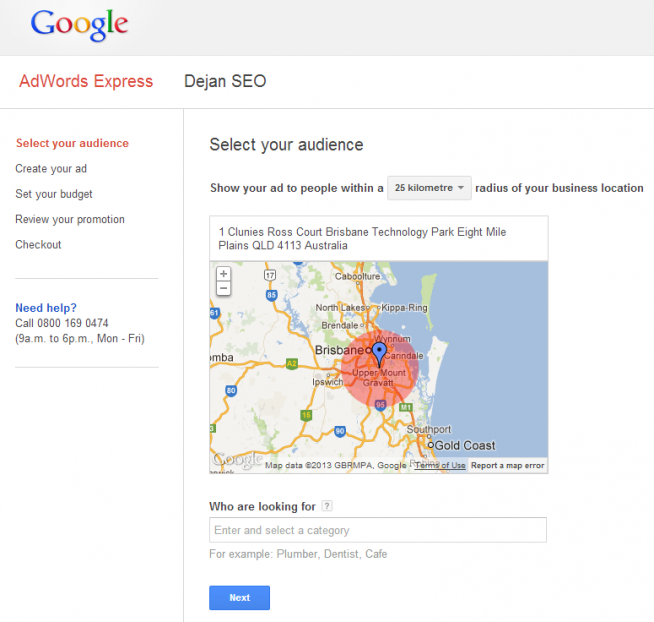 I selected my radius and entered the keyword/industry and was taken to the next screen where I was able to design my ad for:
Search
Mobile
Maps
Display
A handy 1/4 slider allowed me to swap between different platforms and see how my ad will display on each: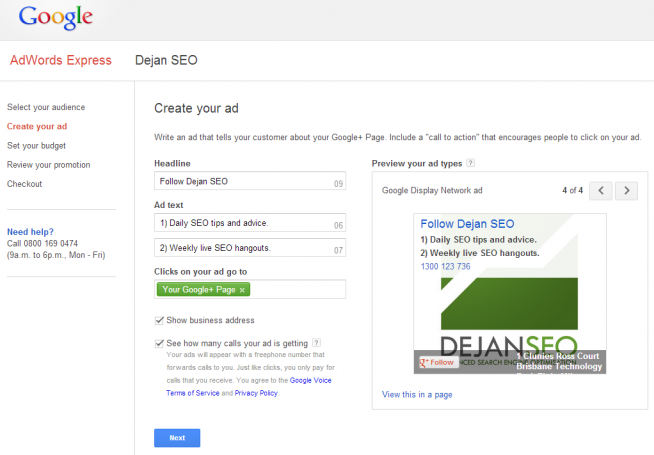 Google Tip: Write an ad that tells your customer about your Google+ Page. Include a "call to action" that encourages people to click on your ad.
One neat feature is that you can click on "View this in a page" link and get an idea how the ad may appear in the context of a page/search/mobile interface: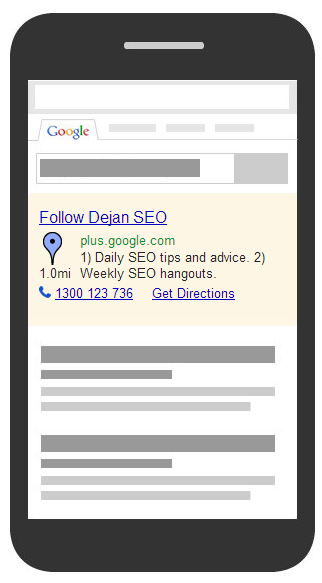 The interesting part, and the reason I'm writing this article is that Google encourages webmasters to advertise their Google+ page in addition to their website. During the ad setup process a choice is given between the two:

I'm not sure what to think about that (pay Google to advertise Google) but I proceeded for the sake of the article and screenshots.
Google offers three budget options but also allows for a custom amount, which is nice: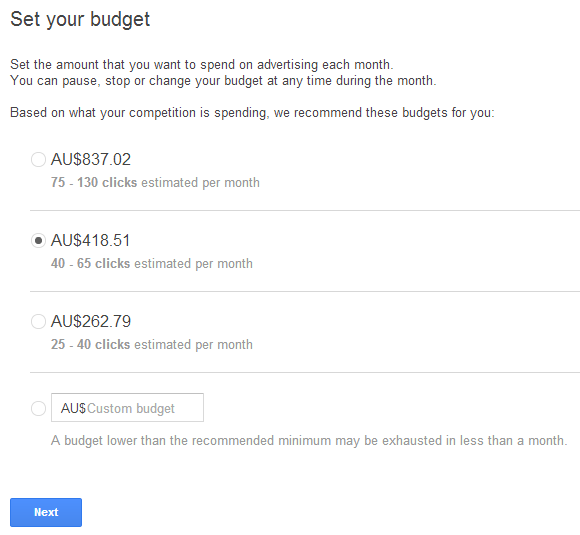 After that you're given an option to review and edit any bits prior to signing up: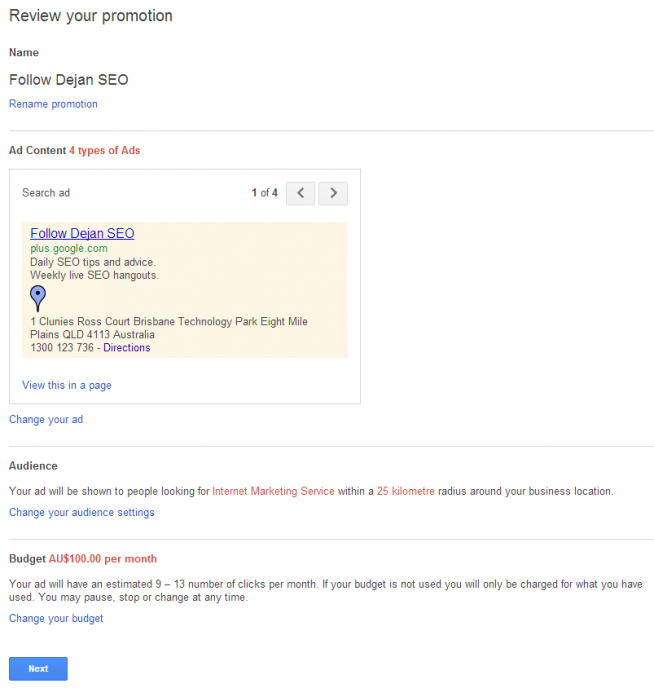 I set my budget to $100 per month which estimated 9-13 clicks per month. At that point I wasn't really sold on the ROI of AWX.
The final step is basically just your billing profile and credit card details, nothing special. Once you submit that you're taken to your dashboard: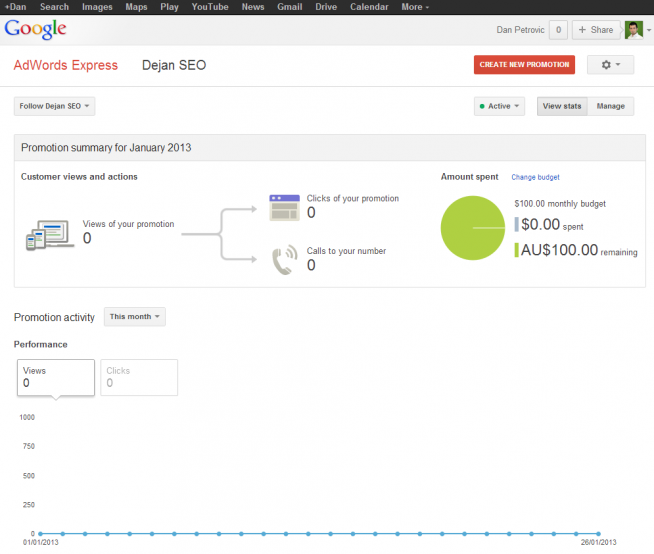 I have to say their sales funnel, user interface and the signup process were flawless, but my favourite part is this:

The "slot 65" in Google+ sidebar was changed from "Want more followers?" to "Check on your promotion" which takes me back to AWX dashboard.
Nice one Google.
Dan Petrovic, the managing director of DEJAN, is Australia's best-known name in the field of search engine optimisation. Dan is a web author, innovator and a highly regarded search industry event speaker.
ORCID iD: https://orcid.org/0000-0002-6886-3211
---
---
---