Webmasters and SEOs often rely on link data from well-known third party tools such as Majestic SEO or SEOMoz but forget to dip into search engines' own data. Google and Bing Webmaster Tools show a representative chunk of your link data. In Google's case it's largely the type of links that Google finds to be of some relevance and significance (they tend to omit the ones that have no impact on the site in any way, but still show nofollowed links as they might bring valuable traffic).
Well, here's another one – Yandex Webmaster Tools: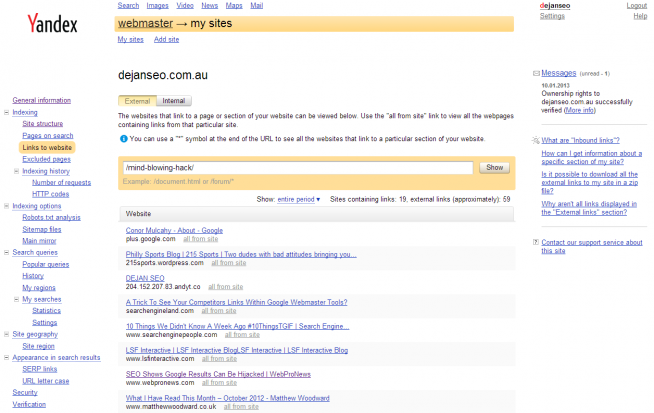 The idea comes from one of our late night hangout when Alistair Lattimore suggested we try it. I couldn't resist and signed up immediately by verifying my email, phone and authorising my website through a HTML file upload.
In the screenshot above you can see an overview of external links, filtered by a page URL (/mind-blowing-hack/ also works for directories and with a wildcard modifier *).
What I found refreshing is the way Yandex sorted my links. It's a lot closer to what I would think are relevant and authoritative sites than how it's presented in many other tools (particularly Google Webmaster Tols, where you can sort by date or export a pure random list as a CSV file).
The idea is to get as much data as possible from every search engine out there and combine the data into a single link database.
Yandex Webmaster Tools Options & Functionality
Here's the breakdown of all the options available within Yandex Webmaster Tools:
General information
Indexing

Site structure
Pages on search
Links to website
Excluded pages
Indexing history

Number of requests
HTTP codes

Indexing options

Robots.txt analysis
Sitemap files
Main mirror

Search queries

Popular queries
History
My regions
My searches

Statistics
Settings

Site geography

Site region

Appearance in search results

SERP links
URL letter case

Security
Verification
Dan Petrovic, the managing director of DEJAN, is Australia's best-known name in the field of search engine optimisation. Dan is a web author, innovator and a highly regarded search industry event speaker.
ORCID iD: https://orcid.org/0000-0002-6886-3211
---
---
---