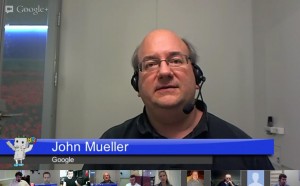 In today's hangout with John Mueller from Google we found that Google tends to ignore content which seems to be off-screen (e.g. -9999px). We asked whether a portion of a website could be accidentally treated as hidden content and not trigger that page in search results for the search terms contained within the falsely detected hidden section. John said it could happen and illustrated with an example of tabs.
Tabbed content is a common element in modern web design, however, John argues that users may search for a particular keyword and not see it immediately on the page as it's hidden behind a tab. A suggestion was made to improve user experience – break the tabs into multiple URLs. I pointed out that splitting up a perfectly good page into multiple URLs may not be in line with previous advice given by Amit Singhal from Google (elaborating on Panda filter).
Is Google ignoring content behind tabs?
No. Or not always at least. We tested with a few websites and found that content was still indexed, though it's uncertain whether it has the same weight as the 'visible by default' the content on the same page.
Follow-up Experiment
We're currently testing Google's ability to handle tabbed content, help us with the test by visiting the following page.
So what's the recommended solution then?
Display the entire content on the page without separating it in tabs.
Thoughts?
Dan Petrovic, the managing director of DEJAN, is Australia's best-known name in the field of search engine optimisation. Dan is a web author, innovator and a highly regarded search industry event speaker.
ORCID iD: https://orcid.org/0000-0002-6886-3211
---
---
---