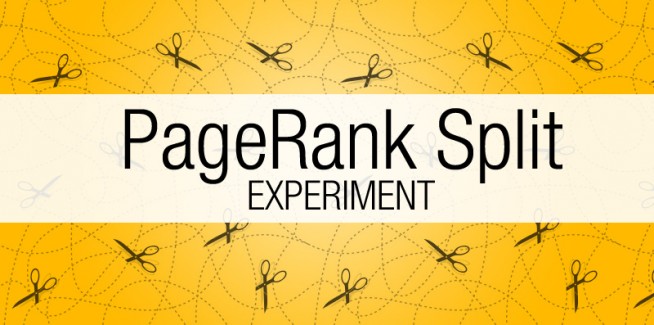 One of the commonly circulated SEO theories is that links from pages with many outgoing links are not worth much. Dejan Labs team put this theory to a test in hope to find out what really happens.
The Experiment Setup
Number of domains involved: 3 (2 test domains referred to as "A" and "B" and a buffer domain used to bridge PageRank)
Test domain characteristics: Very similar domain format with slight variation.
TLD: .com
Content: Minimal, unique, slight variation on both.
Control Period:  31 July 2012 – 20 August 2012 (used to test any natural fluctuations)
Test Period:  21 August 2012 – 11 September 2012
Key Activities
Secure a link on a PageRank 7 sub-page on debian.org for our buffer site
Link the buffer site to the test domain marked "B"
Observed ranking fluctuations (same location, browser, settings, user, machine) looking for any rouge links unintended and undesirable for the experiment (none were discovered).
Elements of Interest
The page on debian.org contained 4,225 external followed links. Despite very high PageRank, the split was too great for our target page (on the buffer site) to receive any visible PageRank, even after the public TBPR update.
Experiment Results
One week after PageRank was passed to our target page, the test site rapidly gained position for the selected search term, reaching the highest position of #3. Currently (three months later) the page ranks #2 and holds its position without any variation. The leading result is a PageRank 4 page on a high authority domain. We do not expect these results to change.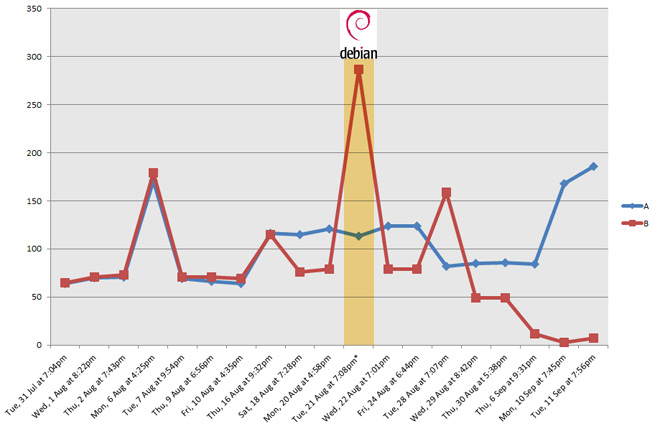 TL;DR
Is it worth getting a link from an authoritative domain and/or high PageRank page which has thousands of outgoing links on it already? Yes.
Raw Data:
Tue, 31 Jul at 7:04pm
Website A #64
Website B #65
Wed, 1 Aug at 8:22pm
Website B #70
Website A #71
Thu, 2 Aug at 7:43pm
Website A #71
Website B #73
Mon, 6 Aug at 4:25pm
Website A #171
Website B #179
Tue, 7 Aug at 9:54pm
Website A #69
Website B #71
Thu, 9 Aug at 6:56pm
Website A #66
Website B #71
Fri, 10 Aug at 4:35pm
Website A #64
Website B #69
Thu, 16 Aug at 9:32pm
Website A #116
Website B #115
Sat, 18 Aug at 7:28pm
Website A #115
Website B #76
Mon, 20 Aug at 4:58pm
Website A #121
Website B #79
Tue, 21 Aug at 7:08pm
Website A #113
Website B #287
Tue, 21 Aug at 8:11pm
Website B linked from a site which is linked from http://www.debian.org (sub-page with 4,225 external followed links)
Wed, 22 Aug at 7:01pm
Website A #124
Website B #79
Fri, 24 Aug at 6:44pm
Website A #124
Website B #79
Tue, 28 Aug at 7:07pm
Website A #82
Website B #159
Wed, 29 Aug at 8:42pm
Website A #85
Website B #49
Thu, 30 Aug at 5:38pm
Website A #86
Website B #49
Thu, 6 Sep at 9:31pm
Website A #84
Website B #12
Mon, 10 Sep at 7:45pm
Website A #168
Website B #3
Tue, 11 Sep at 7:56pm
Website A #186
Website B #7
Dan Petrovic, the managing director of DEJAN, is Australia's best-known name in the field of search engine optimisation. Dan is a web author, innovator and a highly regarded search industry event speaker.
ORCID iD: https://orcid.org/0000-0002-6886-3211
---
---
---