Is consolidation of social signals possible? Dejan SEO team investigates with a simple test including the rel="canonical" element.
One of our recent fun graphics got a respectable amount of exposure in social media, however if we load a comment # for that URL the likes, +1's and Digg counts would reset to zero. At this stage we're not sure whether this impacts the performance of the canonical page in search results but it would certainly reduce the sharing appeal given low existing social share count numbers.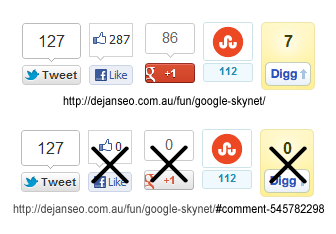 By canonicalising the URL via <link rel="canonical" href="https://dejanmarketing.com/fun/google-skynet/" /> we managed to fix all except Digg:

The original numbers did not increase which means that luckily nobody shared a wrong canonical version of this page. Another possibility is that the scores cannot be aggregated across various canonicalise URLs.
Is this important?
Yes of course it is. Imagine arriving on a page and seeing zero shares and seeing hundreds of shares. It's the social signals that separate poor content from great content these days and can help somebody decide whether they share it further or not.
More importantly, aggregating signals towards one URL means higher score for the canonical page and better performance in places such as StumbleUpon. Surfacing on the first page of major social hubs could cause a sudden surge of visitors and make your content truly viral.
Our Experience
A few years back we launched a viral which (without our knowledge) was reachable from two separate URLs:
Version One:
Likes: 4,636
Tweets: 143
Stumbles: 543,000
Version Two:
Likes: 4,636 (Facebook worked it out!)
Tweets: 30
Stumbles: 181,000
Consolidated version would look much more impressive:
Likes: 4,636
Tweets: 173
Stumbles: 724,000
Canonicalisation has been implemented on the two URLs and we're waiting to see if it has any impact on the scores we've got the results!
Results:
Twitter count of 143 has been applied to both URLs and V2 URL's 30 tweets seem to be lost in limbo. This could be due to the fact that they already counted towards the 143 (prior to canonicalisation) or simply discarded. If it's the latter then canonicalising URLs is still not as elegant as it could be as the tweets don't add up as expected.
Helpful Links
John Mueller from Google recommends the following links:
More on the rel=canonical is at http://support.google.com/webmasters/bin/answer.py?hl=en&answer=139394
More on the +1 button is at https://developers.google.com/+/plugins/+1button/
Comments & Feedback
Jump on the Google+ post for this experiment if you have any experience with this or wish to make a comment.
Dan Petrovic, the managing director of DEJAN, is Australia's best-known name in the field of search engine optimisation. Dan is a web author, innovator and a highly regarded search industry event speaker.
ORCID iD: https://orcid.org/0000-0002-6886-3211
---
---
---