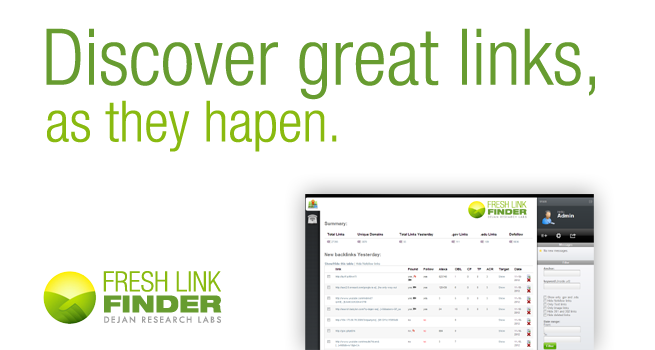 Dejan Research Labs have created a new type of link research and analysis tool enabling fresh link discovery and record keeping. Fresh Link Finder is designed to assist whitehat SEOs and webmasters in keeping track of newly generated links to their content. The tool produces daily reports of all new referral traffic by parsing your raw log files and building a database of all referring domains and links.
Logic and usage of this tool in the context of link acquisition are described here in detail: https://dejanmarketing.com/smart-link-building-with-referrer-traffic/
Main Features:
Discover links from new pages as soon as they direct traffic to your site
Retrieve the full URL and visit the linking page (great for inspection)
Great for reputation management and brand monitoring
Quickly detect manipulative links and negative SEO attempts
Additional Features:
Initial link database import from Google Webmaster Tools for quick link catalogue creation
Filters:

Anchor Text
URL keyword
.gov / .edu
Nofollow
Text Links
Image Links
Redirects
Deleted Links
Date Range
Domain Exclusion

Favourite Report Shortcuts
Domain Overview
Report Metrics & Parameters:
Flow Metrics & ACRank (Majestic SEO)
Outgoing Backlinks
Found Status
Date
NoFollow / Follow
Target Page
Alexa
Redirect Flags
Image / Text Link
All domains
Report Summary:
Total Links
Unique Domains
Total Links Yesterday
.gov / .edu
Dofollow
Interested?
We're currently alpha-testing with a limited number of users. If you want to be included please fill out the following form:
Dan Petrovic, the managing director of DEJAN, is Australia's best-known name in the field of search engine optimisation. Dan is a web author, innovator and a highly regarded search industry event speaker.
ORCID iD: https://orcid.org/0000-0002-6886-3211
---
---