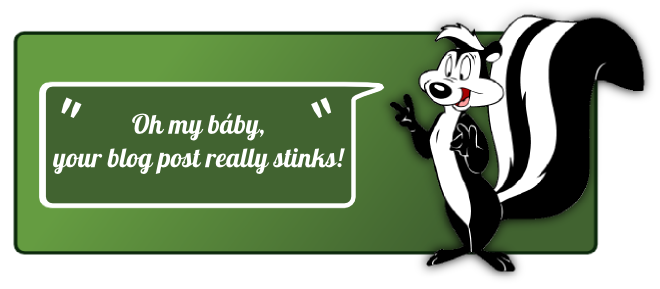 Bored of writing thoughtful, articulate and engaging blog posts? Use the following tricks to make your blog posts so bad no one will read them.
#1 – Promote Your Product, Constantly
What's the point of a blog post if not to promote your business, right? People love being called by telemarketers or visited by door to door salesmen, don't they?
If you want to give your blog a similar vibe and limit it's credibility as a source of information, then promote your business in every post.
Make It Better: If you want to promote your business through blogging, consider writing about the common questions people have about your product or service. Promotional content should be extremely limited, the idea of blog posts is to attract people to your business through useful and trustworthy information.
#2 – Use Big Blocks of Text
Want to stop your readers in their tracks before they even get through the first sentence? Merge all your paragraphs into one! Nothing puts people off more than a big wall of text.
Make It Better: Use headings to break the post into logical sections and structure your post. Break sentences into logical paragraphs, with one point per paragraph.
#3 – Use Stock, Pixelated or Un-Optimised Photos

Nothing says "professional" like a team of ethnically diverse models focused on a chart with some arrows.
Make It Better: Just say NO to any image with with little gradient people, arrows charts or smiling corporate teams.
#4 – Assume Knowledge & Make Wild Claims
Use phrases like "We All Know" or simply make claims without proof. It lacks professionalism and makes big assumptions about the views of your audience.
Make It Better: If you find yourself making any statements of fact, ask yourself, how do I know this. Then link to it, or include a list of references at the bottom of the post.
#5 – Be Vague & Avoid Actionable Points
Writing a meandering essay on the merits on the benefits of targeted page titles is fine, if you want to leave your readers confused and uncertain of what to do next.
Make It Better: Ask yourself, what's the point of the post and how reading it will benefit your users, then provide clear steps for users to take action on that information.
#6 – Write As Much As Possible

People often write with little thought for the number of words they use. But more words doesn't always mean more information, which means you're really just giving your readers more work for the same amount of value.  Think about it as value/word. If you can say the same thing with fewer words, the value/word goes up. For example:
"Considering the fact that readers enjoy blog posts when they are short and to the point, it is necessary that we must write in a way which uses fewer words where possible." – 32 words

Vs

"Readers enjoy concise writing making it important to be succinct" – 10 words
Make it Better: After writing your post, go through each sentence and check if each word is really necessary to convey the meaning of the sentence.
 #7 – Forget Structure
There are two ways structure is important:
For the post as a whole
For individual points within the post
Writing a post without a structure makes it difficult to present a coherent argument and for your users to read.
Make It Better: You blog posts should:
Explain the importance of the topic, introduce what you are going to write about and the benefits for your readers
Write about the topic
Explain what you just wrote about and how it will benefit your readers
Doing this makes it significantly easier for your readers to read your post and take away key points.
#8 – Repetition, Repetition, Repetition

Repetition of other people, repetition on your website and repetition within the Article.
Make It Better:
Read other blogs within your industry and follow the discussion. You'll know whats been written about and where the conversation is going.
Avoid writing about the same thing over again (eg: "How to Find a Florist in Brisbane", "The Best Florists in Brisbane", "Cheap Florists in Brisbane"). Ignoring the fact it's horribly self-promotional, it's also unlikely to maintain an audience of engaged users.
Finally, read through your blog posts. Are you making the same point twice in the same sentence or paragraph? Is it really necessary?
How Do You Ruin Yours?
Follow the numbered points above and you too can have a rubbish blog post that no one will read. But did we miss anything, what other sins of writing have you seen that make a blog post bad. Let us know in the comments below, or on Google Plus.
Dan Petrovic, the managing director of DEJAN, is Australia's best-known name in the field of search engine optimisation. Dan is a web author, innovator and a highly regarded search industry event speaker.
ORCID iD: https://orcid.org/0000-0002-6886-3211
---
---
---