The Changes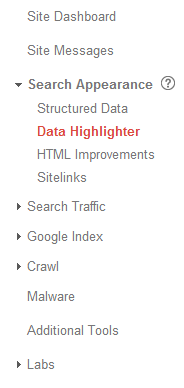 Changes to webmaster tools now bring Schema markup features heavily into focus. The menu structure (shown on the right) now contains a new category "Search Appearance" immediately below messages, putting it above other tools in WMT.
The Search Appearance category contains the Structured Data, Data Highlighter, HTML improvements, and Sitelinks management tools. Whilst these are nothing new, this layout puts them front and center in the WMT, bringing them into focus for users who might not be familiar with Schema & snippets. This is supported by the recent update to the Data Highlighter tool, which now allows users to markup data for a wider range of Schema Categories.
Making Rich Snippets Accessible
The changes also draws attention to the "Search Appearance" category with an info icon. This displays information about Rich Snippets and provides guidance on how these are displayed, selected and what tools are available to obtain them.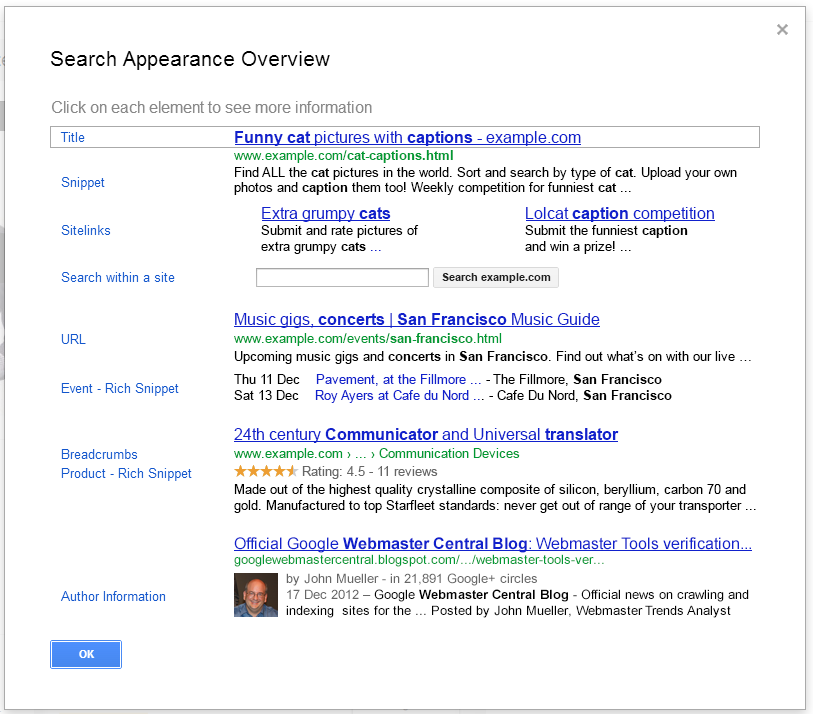 Googles Commitment To Schema Markup
These changes are important for two reasons.
They make Schema markup more accessible for users who aren't comfortable making changes to code, leveling the playing field for "Mom & Pop" businesses.
They demonstrate that Google is committed to increasing Schema Markup on the web.
And speculatively:
Easy forms of markup like the WMT highlighter tool give Google a competitive advantage over other search engines, who don't have access to the data
Increased use of the Data Highlighter tool means Google can use the information as sample data for machine learning, potentially making Schema markup unnecessary in the long term

And for the conspiracy theorists among you, promoting Google Plus through the authorship markup
What Should You Do About It
This shows that Schema is important and the new tools make it easier than ever to implement.
Will you be implementing Schema or have you done it already and did it make a difference to your traffic? Let us know in the comments below or on Google Plus.
Dan Petrovic, the managing director of DEJAN, is Australia's best-known name in the field of search engine optimisation. Dan is a web author, innovator and a highly regarded search industry event speaker.
ORCID iD: https://orcid.org/0000-0002-6886-3211
---
---
---