Can anchor text influence uninformative title tag replacement?
In 2012 we examined Google's document title rewriting behaviour in order to create a list of contributing factors.
In the follow-up experiment we've focused on one signal only – anchor text.
Experiment Instructions
What we did:
Link to this page using anchor text "Banana": https://dejanmarketing.com/untitled.html
Specifics
The target page has an actual title called "Untitled Document". You can see it in Google Webmaster Tools screenshot defined as "non-informative":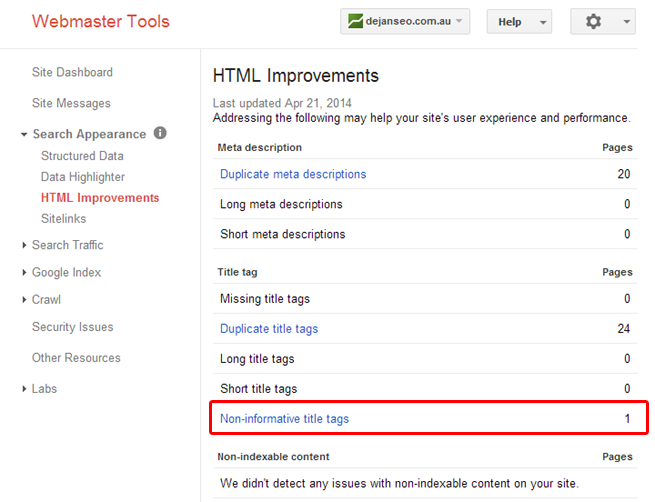 Result Monitoring
We monitored these three search queries:
Experiment Results
On the 14th day of our experiment, one of the participants reported a new title on the site: function results which included the value from inbound link anchor text, "banana".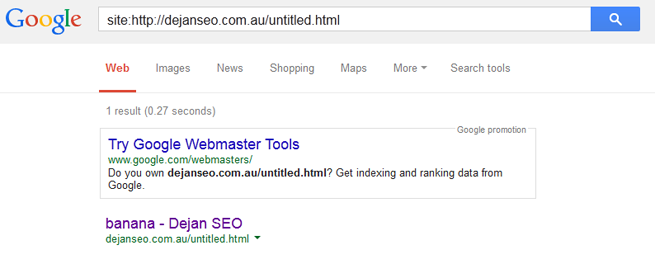 I couldn't see the same result at the time of writing this article, but did notice the change for info:

Readers' Quiz
Why didn't Google highlight the word "banana" in the following search results? Let us know here.
Experiment Contributors
This experiment wouldn't be possible without the help of the following people:
[list style="arrow" color="green"]
[/list]
Did you know?
We're still wearing a manual action for our last experiment involving inbound links which pass PageRank:

We'll probably be slapped with another one, so in order to protect our participants I have asked them to remove their links now that the experiment has been finalised.
Matt Cutts on the Subject of Title Rewriting
Dan Petrovic, the managing director of DEJAN, is Australia's best-known name in the field of search engine optimisation. Dan is a web author, innovator and a highly regarded search industry event speaker.
ORCID iD: https://orcid.org/0000-0002-6886-3211
---
---