In a recent SEO experiment we tested several cases of title tag replacement in Google and discussed elements which are used for replacement and when it may happen. Today we found another great example with some additional insights as to how Google may perceive information on the internet from the semantic point of view.
Let's observe the good old branded snippet: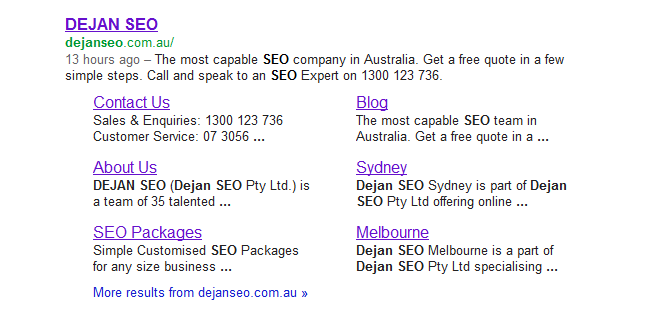 Nothing interesting there as our title tag is as it displays in the search result. From time to time Google may pick brand name alone in case where title is saturated with promotional terms and keywords.
In our next case we see something quite interesting when searching for Sennza in Google: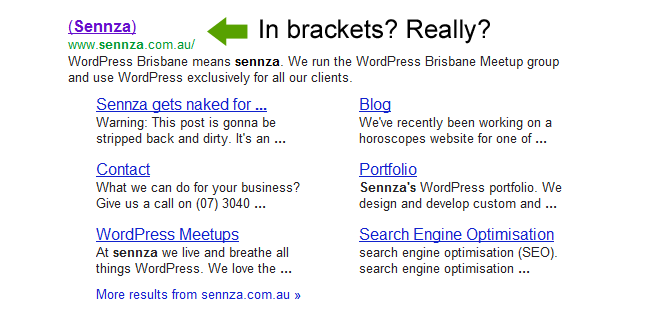 Same situation with mobile results. I thought this was strange and went to investigate: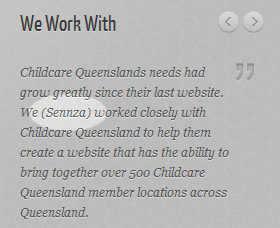 Luckily it was dead obvious what caused this, but it did not make it any less interesting. So if you say "we" Google may associate the next word with the group, organisation or brand which is interesting and makes a lot of sense. There is plenty of cases where that may not be the case, but as we can see Google got it right this time. What is odd about this case is that they left brackets around the brand name and even inserted it in the search snippet instead of their title tag (which is optimised for SEO):
<title>WordPress Brisbane | WordPress Development | WordPress Consultants</title>
In this case Google though, oh well, you searched for Sennza so I think it's better to show Sennza in the title than the above. Why they used brackets around the brand is a mystery to me and looking forward to hear opinion of our readers on Google+.
If you like this sort of thing go and read more about our recent title tag experiment which lead us to following conclusions about elements used in title replacement:
Domain Name
Page URL (note: gets confused with multiple levels)
Domain + URL combination
H tags
Plain Text (tested when at the beginning of a document)
Elements of a parent page (in case of iFrames)
Truncation for boilerplate against variable elements.
Update: Google Webmaster Tools picked up this page title and classified it as "not informative" and presented it as one of the site issues as visible in the screenshot below.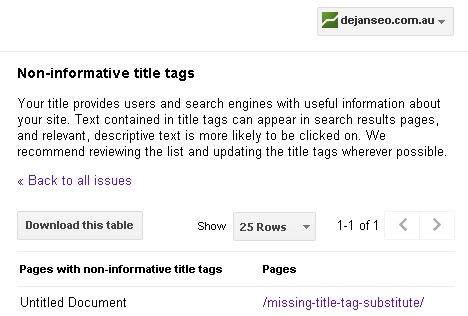 Dan Petrovic, the managing director of DEJAN, is Australia's best-known name in the field of search engine optimisation. Dan is a web author, innovator and a highly regarded search industry event speaker.
ORCID iD: https://orcid.org/0000-0002-6886-3211
---
---
---