If I'm honest, I was guilty of some ignorance. I didn't realise the mountains of crap that blog owners are subject to. It's like hordes of the un-dead have somehow got access to the internet and are making their way towards your website.
I should take a step back; Outreach emails are an important part of the work we do, so I recently decided to review all my teams outreach emails that are sent. I saw some areas for improvement but didn't really feel like I could provide solid guidelines. There are some good guides to improving your outreach emails, but I wanted to get my hands dirty and understand the process from the receiver's end.
"You can't really know a person till you walk a mile in their shoes" Unkown
Some estimates put email outreach success at around 5% on a good day, so making each email count is important. To understand how it feels to get an outreach email, I carried out a little experiment on my own blog.
Important: What follows is not a scientific analysis, but general observation of what's happening with outreach emails and some quick suggestions as to how they can be improved.
The Test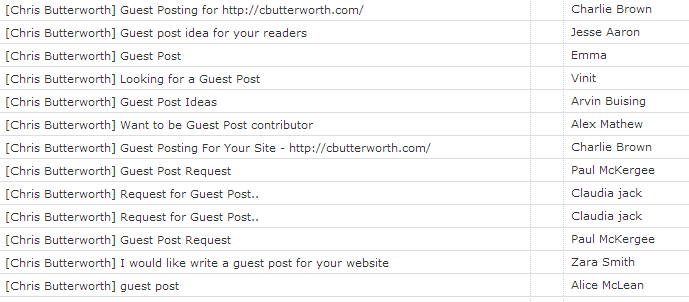 I added a "Write for Us" page on my blog. This laid out some basic guidelines for posting and information for submitting a post. The contact page is separate to the "Write for Us" page, and has anti spam measures in place, so anyone getting in contact would have to do so manually. I was/am genuinely open to good quality guest posting on my site, so these are real opportunities being wasted.
Emails – The Apocalypse Beings
Hello webmaster,
I am Emma Alice, A Content Manager. I am working with [Company Name] from last 4 years. It\'s a SEO Company (Registered from US). It provides SEO Services and Web Designing or Development Services to it\'s client worldwidely. I am doing Guest Post. I need Seo, Tech, Web related sites for guest post. I also searching some General Business, Health, Auto sites for guest article post.
I would like to give you an unique and quality article on your website theme. No duplication or copying of the article is done. I assure you that the article will be published only on your site. Please Show me your sites for article post.
In return I provide you link back or guest posting sites if you want. I have all theme PR sites. Please Send me your all blog lists where you can post my articles.
Add my id for guest post exchange and for the google-talk also :[email]@gmail.com
Should I even have bothered to include this as an example of email outreach? Probably not, but it's worth understanding the deluge of crap site owners recieve on a regular basis. So, what could be improved that might have convinced me to let them guest post:
Use my name, which is plastered all over the site
Get someone who speaks/is able to write proper English to send the email
Offer something specific (I don't want to be referred to as a general site)
Use a branded email address
This really is the worst of the worst and offers me no value whatsoever. Does this look familiar?
Hi,
My name is Michael Johnson and I am working as an SEO consultant at [Company Name] in Los Angeles California. I have 6+ years of experience as SEO consultant and need a place where I can share my views and knowledge with people around the World.
I have gone through with your Blog and found it very fruitful. So I would like to share my knowledge with your blog to help people to learn something new.
If you\'ll allow me then I\'ll write a few samples to show you. I hope that you\'ll give your attention to my request and will respond to something positive.
Thanks and Regards
Michael Johnson
I can't help but think that these are names made up by people who want to sound American. The giveaway is the word "fruitfull", used to describe my blog. The suggestion that this person is an experienced SEO consultant looking to share their wisdom with the world and just needs a place to write is an outragious lie. Ignoring these issues, what could they have done differntly that hasn't already been mentioned.
Included a signature with their information and details of their site
Included details of their social media accounts
Link to examples of what they've written
Ask for something more specific. I'm not 100% what they want on an ongoing basis after reading this email.
Hello Chris,
My name is Beth, and I'm contacting you on behalf of [Company Name].
We're working on developing educational content to spread awareness to readers about cloud computing. Given your thought leadership in marketing and SEO, we wanted to see if any of the content we're developing would be of interest to your readers.
I read through your marketing articles and was inspired to send you an article on Drupal for ecommerce. This article will be exclusive to your site if you wish to use it. Please let me know if you\'d like to discuss this opportunity further and/or if you have any other ideas.
For reference, here are a few example articles our team has written:
[Terrible Example]
[Terrible Example]
[Terrible Example]
Thank you for your time,
Beth
Inbound Marketing
[Domain Name]
Finally, someone used my name. This is no small acheivement for a site which is branded with my name in the logo and the URL 😉
What I like about this email is they flatter me without using the line "I have gone through your blog". Unfortunately they lose me in the next line by suggesting an article which has nothing to do with my site (WordPress, thank you for asking), or any of my previous posts. I also find it a big turn off when an email then goes on to highlight that it will be "exclusive to your site". Doesn't this go without saying?
The links to examples of previous work are a nice touch, but unfortunately all of the examples link to ugly articles on low quality, generic guest post sites. So what could they have done better:
Offer something specific to my topic or related to a recent blog post
Provide example links to well written, attractive content on their site
So close, but so far. Each of these examples wasted an opportunity for a guest post.
Avoid Looking Like A Zombie
The aim of this article is not to suggest everything possible to make your email outreach better, but achieving what should really be the bare minimum. The following are a good place to start
Be a real person – Use branded email addresses, include signatures with links to social media
Give a real reason – We are promoting XYZ, related to [feature/post on your site]
Show value – Link to genuine examples of content, preferably on your own/clients domain. If you can't do this, why would anyone let you post on their site?
Be Credible – If your writing skills aren't great, provide an outline and pay someone to write it for you
Make an effort – At least try and find their name
I guarantee that by implementing these points you will stand out from the Zombie Hordes banging on the bloggers door.
If you think I missed something out, or just want to be outraged at my prior ignorance to this issue, leave a comment below, get involved on Google Plus or give us an upvote on Inbound.org. Tell us what annoys you about outreach emails.
Dan Petrovic, the managing director of DEJAN, is Australia's best-known name in the field of search engine optimisation. Dan is a web author, innovator and a highly regarded search industry event speaker.
ORCID iD: https://orcid.org/0000-0002-6886-3211
---
---
---