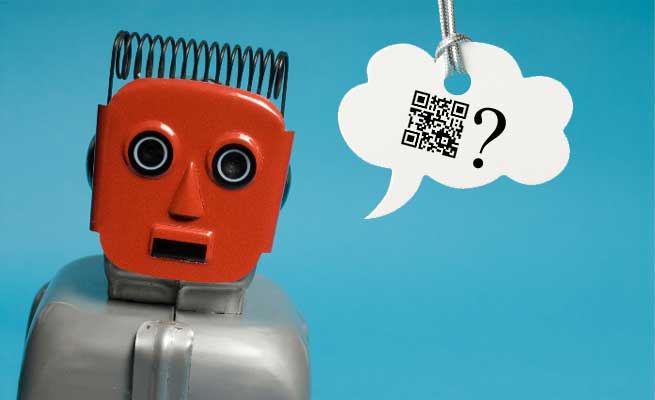 I'll keep this short and to the point. We tested two things:
Will Google discover a URL contained in a QR code?
Will Google discover a URL contained in an EXIF?
The answer to both at this stage of our test is: No.
Details
After seeing an interesting discussion on this thread we created a test page and waited until it was indexed and cached, including Google's image search. The URL contained within the QR code was pointing to another page we created but never visited in a browser to eliminate any extra variables. We have a simple script tracking Googlebot activity and right now, there is no evidence of any activity on that URL. If this changes we'll update this page with new results.
Our EXIF test is now a month old and we've seen no Googlebot activity on the test URL either, we don't intend to continue with the same test and setup so it's safe to disclose the details. The 'feeder' page contained an image of St. Matt Cutts with a special URL contained within it's EXIF, if you're curious you can download the image and view the properties to see what the URL was. We saw no evidence of bot activity on our test page even after shares and +1's on Google+ leading to the feeder getting indexed and cached.
As usual we welcome feedback and follow-up experiments.
Credits
Anton Sheker,  EXIF file test idea
Mariachiara Marsella, and Trey Collier (Backyard City), QR experiment
We've also spotted another independent test by Matt Storms which st this point shows the same results.
Dan Petrovic, the managing director of DEJAN, is Australia's best-known name in the field of search engine optimisation. Dan is a web author, innovator and a highly regarded search industry event speaker.
ORCID iD: https://orcid.org/0000-0002-6886-3211
---
---
---