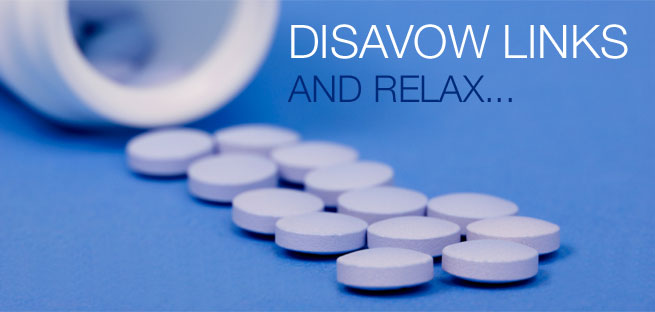 [blockquote type="blockquote_line" align="right"]At the moment, nothing is being done with the disavow data and it's unlikely to happen soon. Similar to the removal request – it's mainly a way to gather more data but doesn't have a negative affect. Very big sites find it hard to get rid of all bad links and so the disavow tool provides an easier and more effective way but  it must be combined with re-inclusion requests.[/blockquote]
Topic Controversy
After much debate in the webmaster community regarding the effectiveness of the link disavow tool on an algorithmic level, Danny Sullivan myth-busted the whole thing ((http://searchengineland.com/how-google-disavow-link-tool-remove-penalties-154928)) thanks to his contacts at Google. Another source ((http://www.siliconbeachtraining.co.uk/blog/ex-google-employee-brighton-seo/)) adds further confusion to the case, however, as it perfectly aligns with webmaster observations (no documented case of recovery through link disavow tool upload only) and statements made by some Googlers (and ex-Googlers ((https://www.youtube.com/watch?v=lMLIII05W0Y)) ) regarding the link disavow tool. As of this point we have several reliable sources claiming that the tool both does and doesn't work on an algorithmic level.
In a recent Google Webmaster Central Office Hours hangout ((https://www.youtube.com/watch?feature=player_embedded&v=4V06eCUbGM8#t=351s)) John Mueller clarifies that disavowed links are processed automatically (not manually). Reconsideration request is still required if manual action is applied. John also clarifies that in case of Penguin, which is a manual algorithm push (doesn't run in real-time) webmasters will only see the result of the link disavow once the algorithm has been re-run again. He also stated that Google takes care with algorithms such as Penguin and test extensively before they release the algorithm out of its sandbox.
Fantastic information which likely defuses much of the controversy surrounding the topic.
Background
Many webmasters believe they can simply upload bad links in Google's link disavow tool and wait for them to be magically removed from Google's link graph. Several people at Google have already advised that link disavow tool represents just a step in a link cleanup process. The tool on its own will do nothing to help you recover from manual action.
IDENTIFY.
Identify bad links in your Google Webmaster Tools export. You can use other tools to process link data more efficiently, for example to discover nofollow links or sort by anchor text or quality parameters.
REMOVE.
Remove the links you can by reaching out to webmasters of websites with unnatural links pointing to your website. You may reach out to your (former?) SEO company to assist you with the cleanup process. This step is important, do not expect a good outcome by dumping an entire Google Webmaster tools export of your inbound links.
DISAVOW.
Links which you are not able to remove should be submitted via Google's link disavow tool taking care that you don't accidentally exclude an entire domain if there are only few offending pages. Similarly, it's a good idea to exclude as many possible pages (or even an entire domain) when you're dealing with sitewide links on domains which will not remove the offending links.
RECONSIDERATION.
You must file a reconsideration request after you submit your link disavow file otherwise the tool will not erase the links on an algorithmic level.
What exactly Google's webspam team does with the disavow file is a mystery to me but I am pretty sure that the "link ignore" part of the whole process would only happen on that level. Surely the file you upload also allows them to streamline the link analysis / review process and decide whether the re-inclusion request is successful or not.
I have to admit that I also have a link disavow tool file uploaded, without reconsideration request filed. Why? Well… we haven't had any penalties or notifications that require action. But if we are at some point affected by all the inorganic inbound links (including reputation management, negative SEO and pingback spam) I have the bad link list handy and ready.
Hopefully I won't need it.
Dan Petrovic, the managing director of DEJAN, is Australia's best-known name in the field of search engine optimisation. Dan is a web author, innovator and a highly regarded search industry event speaker.
ORCID iD: https://orcid.org/0000-0002-6886-3211
---
---
---