This study focuses on analysis of link building workflow and delivers a practical framework for process optimisation. Research activities which lead to this study were conducted in the period between January 2009 and June 2011 by Dan Petrovic and a team of no less than twenty link builders at Dejan SEO.
The answer to most of our challenges is presented in the conclusion of this article. Read on however for a journey into anatomically dissected link building process.
How SEO Companies Approach Link Building
One of the most common mistakes SEO companies make when engaging in link building activities is measuring success by link quantities. It's important to remember that the web is an infinite source of links and the pace at which new documents are created is greater than that at which you can create links – even if you use software and automation. The real commodity in this situation is your time. Allocating time appropriately is the key to optimal performance of your team.
Assessment of Research Styles
There are many effective methods of determining which links are valuable and which ones are not. There aee a few practical methods commonly used by SEO professionals involved in link building:
Software Link Analysis
Manual Link Research
Real-time Link Opportunities
Existing Link Profile
Software Link Analysis
The purpose of software link analysis is to save time by automating activities not practical for research by individuals. Let's explore a few facets of software based link analysis:
Topical Link Analysis
This step is not as complex as it may sound and is based around initial topic parameters which initiate software's path. There are three parts to this process:
Initial Parameters (e.g. Keyword, Specific URL)
Crawling & Recording Quality Parameters
Sorting of Data
Given initial parameters, crawlers starts the harvest process following keywords and links. Keep in mind that after third or fourth level the topical dilution may be too great to justify continuing research – that would be a good stage to stop the crawlers and initiate qualitative analysis.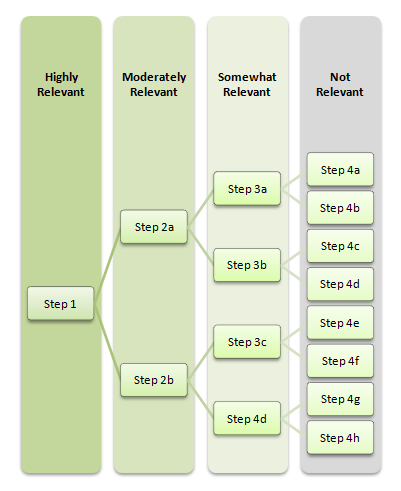 Competitive Link Analysis
Basic competitive link analysis can be performed on two levels:
Single Competitor
Multiple Competitors
In the first case the main objective is effective sorting of qualified links. In the second case there are additional considerations such as:
Data Merge
Duplicate Removal
Link Overlap Analysis
Harvested links can be merged into a unique list free from duplicates and added to the link overlap database. Overlapping links indicate easy targets where likelihood of successful link placement is high. Using this method in combination with topical analysis allows discovery of relevant and likely link opportunities.
Qualitative Link Analysis
When deciding which links to acquire first it is important to understand the links' potential. This is very difficult and time-consuming if done manually and is another example of activity which can be effectively replaced by software. List of qualitative parameters may contain the following:
Domain Strength (e.g. Domain Authority, Inbound links from gov/edu/mil)
Page Strength (e.g. PageRank, MozRank or ACRank)
Incoming Backlinks (Quantity & Quality)
Outgoing Backlinks (Quantity & Quality)
Opportunistic Assessment
Before targeting a specific link opportunity it is wise to understand the likelihood of that link being placed on the selected page or website. During qualitative analysis we seek pages which do not link to many other external domains, but in some cases existing outbound links may be an opportunity signal. A page which contains no existing links is less likely to accept a new link than the one which already contains some.
Opportunity assessment can take place on two levels:
Additional filtering option may prevent false (or very unlikely) opportunities:
Nofollow (link, meta, robots)
Exclusion of commercial results (e.g. only links to gov/edu/mil domains)
Based on this logic we have developed a tool which highlights link opportunity pages by scanning a single domain of our choice and mapping the pages with existing outgoing links while filtering with above mentioned parameters.
Manual Link Research
Manual research typically brings the most original opportunities, but often in insufficient quantities. This is why many SEO companies avoid this method and give priority to more automated solutions which do not deliver sustainable results and may even be in breach of search engine guidelines. In order to minimise the time consumed by manual link research it is important to analyse and understand the link builder behaviour and deliver a set of productivity tools which will fast forward the process and enable streamlined workflow.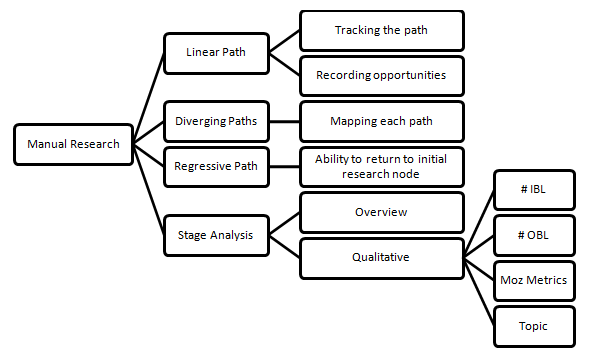 Linear Path
Linear research is based on a single browsing path and represents the most streamlined of all research methods. It typically manifests in three distinct styles:
Interrupted
Cumulative
Hybrid
Interrupted linear link building style requires link builder to act on each opportunity as they encounter it. Cumulative is based on collecting opportunities on a linear browsing path and acting on them after research path has been exhausted. Hybrid is the combination of the two where link builder decides which opportunities are to be acted on immediately and which ones are to be accumulated for delayed action. The main challenge in this research style is simply quick and efficient storage of data and ability to track the research path.
Diverging Path
Based on linear link research, diverging style involves branching out into multiple research threads. This style yields broader and richer data but is more challenging due to limitation of our ability to store and retain information. Researcher will typically end up with multiple browser windows and tabs open and attend to each one in a linear fashion.
Regressive Path
Both path styles require easy access to mapped activities and ability to track back to the original research node. This is particularly useful if the original node diverged from the very start.
Stage Analysis
At the end of each research stage, link builder may wish to review the progress on a holistic level where an overview screen might prove useful. Stage overview represents a collection of URLs sorted by selected criteria (quality metrics, topic, and link metrics).
Real-time Opportunities
Link opportunities occur in real-time and in random intervals with absence of research path and methodology. Examples are: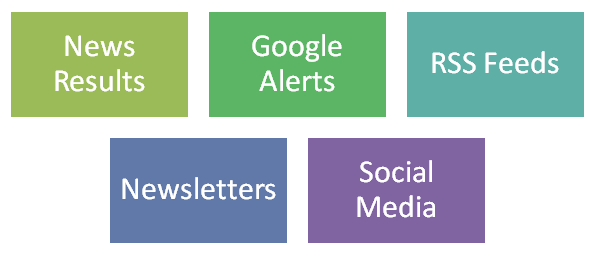 It is acceptable to evaluate each new instance manually but integration into existing link management system with alerts and notifications can indeed be helpful.
Existing Link Profile
Analysis of the existing backlink profile is another effective way of discovering potent link opportunities through: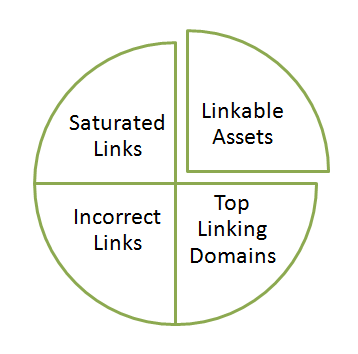 Old and well-established domains tend to have thousands of existing links which could be further optimised by correction of the linking environment or the link itself. Presence of links on other domains may point out at a better placement method on the same domain and spark ideas for new link locations.
Extraction of existing backlink profile is possible using Google Webmaster Tools data and for refined dataset optional embedding of Google Analytics or other statistics packages into the mix. Observed elements are:
Anchor text
Image links
Landing page potential

Number of outgoing external links on the page

Noindex / Nofollow
This can be applied on a top level for a merged dataset of multiple clients. This is an excellent way to determining common link hubs which can be made into basic link opportunities for all new projects.
Human Interaction & Interface
While software-based link analysis produces useful lists we found that manual link research does not flow well enough to enable smooth research. Traditionally link builders use spreadsheets to enter link opportunities with varying degrees of sophistication and sorting ability. The shortcomings of this method are obvious in a collaborative environment where more than one link builder needs to access the stored information.
The following diagram illustrates what happens to each link opportunity and how software automation helps with data entry.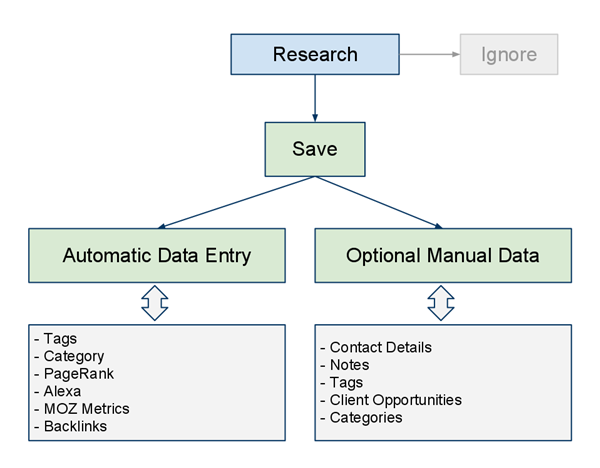 Software can also take care of many miscellaneous link properties which have to be entered in previous versions of our link building framework. Here is how a link opportunity may transform in time: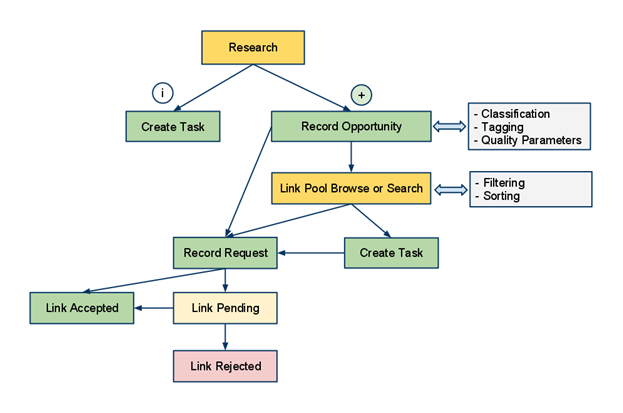 Streamlined workflow has its consequences and much is being sacrificed in terms of data accuracy. This is why it's important to enable optional second step and post-entry data population with easy skipping option.
Main link database interface is complex and contains numerous additional functions so the real challenge is to enable flawless user experience in order to minimise administrative time and increase productivity. Before going into our interface solution let's break down the properties of a link to get an appreciation for the complexity of link-based inventory system:

Downloads:
Illustrated below is the wireframe interface designed to incorporate the most essential options for daily workflow: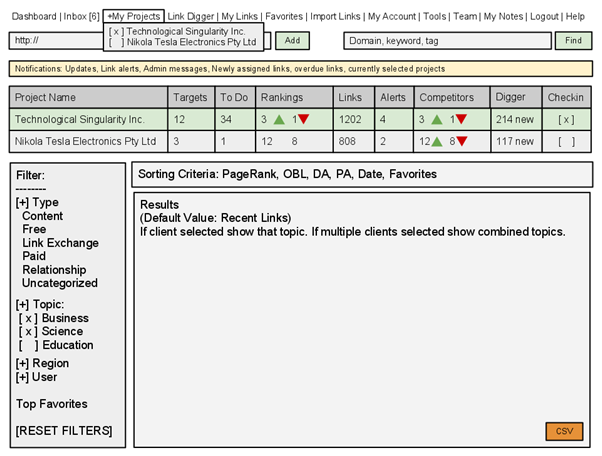 Two key areas are the search and refining (sorting & filtering) which enable link builders to quickly find the most relevant opportunities and prioritise their contacting campaign. This feature becomes increasingly useful with time, especially in larger teams.
Dashboard
Dashboard serves as a quick overview of the latest link building activities such as link status updates and alerts. Dashboard can also be used for team-wide notifications and ranking updates. We found that link builders prefer to see regular ranking updates as it provides meaningful connection of their work to ongoing success of the campaign.
My Projects
This section provides in-depth information on link building activities for each specific project, allowing team members to monitor progress in rankings.
Link Digger
Semi-intelligent link suggestion area based on tagging, topical relevance and link likelihood.
My Links
Area where link builder can review their progress and links scored in the past.
Favourites
During link search within the system link builders can highlight links they like the best and quickly find them in their personal favourites list. Items which get highlighted by multiple users progress in the top chart of all-time favourites.
Import Links
One thing we've learnt during our study is that no matter how good the system is, people will always use offline records either for speed, exclusivity or backup. Having import/export functionality is a must.
Link Exclusivity
An interesting phenomenon gradually develops in large link building teams where each member of the team creates a personal list of contacts and links they do not wish to share with others. This is partly as those links are perceived as a personal secret weapon and partly to protect a well-established relationship from external intrusions (even if they are the members of the same team). Within our team this has been solved through an "exclusivity tag" which mark a link as proprietary (specific either to project, contact person or a member of our team).
My Account
Apart from basic account information this area is also designed to host success trophies and awards which everyone else can see.
Tools
Central collection of internal and external tools which can be used for advanced research tactics and manual link research.
Team
Browse team members and their links, see who is the best performer.
My Notes
Ambitious attempt at replacing offline notes and records. Does not get used at all.
The Final Solution: Introduction of the Browser Toolbar
After numerous attempts at creating and improving interfaces it was decided that a browser toolbar will provide the best possible user experience. How toolbar works is similar to adding items to an online shopping cart or bookmarking pages in a browser.

Click the "add" button on every page you think you can, or would like to get a link on. Link builders can now quickly flag and collect link opportunities without being taken away from their research path. This is particularly useful if somebody already managed to score a link on a particular domain and others can see this in the toolbar alert and read the instructions on how it was done and who to contact. The toolbar interfaces with the existing link database and is able to write and retrieve link status in real-time.
What's Next?
Our link platform is currently in its alpha stage and rigorously tested for best possible user experience. If you are a link builder and have a burning desire to contribute or to test-drive please get in touch and let us know. We're expected to go live with a public beta in 2012.
Credits go out to Matt Morphett, one of Australia's most talented user experience experts for his continuing contribution to development of our framework. We would also like to thank people at SEOMoz for their excellent metric data.
How to Apply for Alpha Tester Access?
Please fill out the following form:
https://docs.google.com/spreadsheet/viewform?formkey=dHRlcjcwdlRqLTh2ZXNLMHBBVkdPa0E6MQ
Dan Petrovic, the managing director of DEJAN, is Australia's best-known name in the field of search engine optimisation. Dan is a web author, innovator and a highly regarded search industry event speaker.
ORCID iD: https://orcid.org/0000-0002-6886-3211
---
---
---