Broken links are an old problem but also a great opportunity for many websites. In this article I will outline practical ways you can look at broken links in SEO context to improve your rankings, protect your reputation and provide great user experience.
Internal Broken Links
Linking own content and pages that don't exist anymore or have changed location gives users 404 errors and prevents healthy flow of PageRank throughout the site. It also delivers poor user experience and may result in a user leaving your website and going back to results (bad signal to search engines). Since Panda update, Google pays a lot more attention to how users perceive website and whether they trust them or not. Fixing internal links is not very difficult, in fact Google provides the tool for it. Visit Google Webmaster Tools and navigate to Crawl Errors section, what you will see is a list of internal crawl problems and sources of errors. You may want to pay attention to the "Not found" list.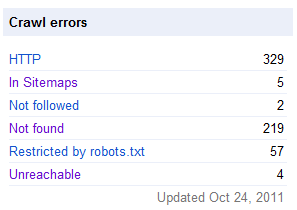 External Broken Links
Search engines judge you by not only by who links to you but also by how you link to others. This is why it's important to keep an eye on all outgoing links from your website. Sure, you take care when placing links but often webmasters change their URL structure and you may end up directing people to wrong content or 404 pages. That in itself is bad user experience but it can get even worse. How? Well, it's not unusual for a domain to expire or change ownership. You could end up directing your users and search engines away from your website towards a spam site at some point. This happens often, and we know because we did a scan of thousands of websites across the web and found nearly 8000 websites which linked to non-existing pages and domains. Here are the stats: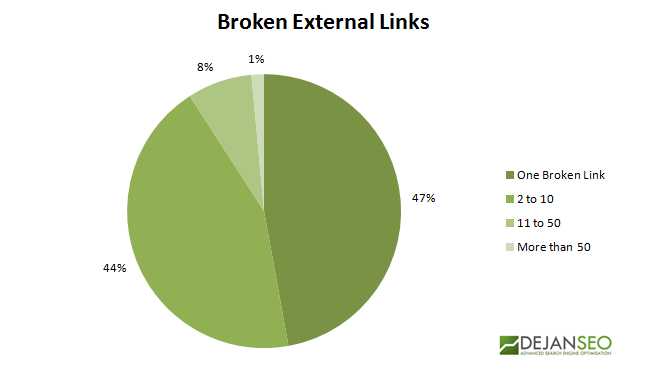 We found that out of 7775 domains which contained broken links 47% had at least one, 44% had between two and ten, 8% with between eleven and fifty and roughly one percent linked to more than fifty non-existing pages and domains. The worst case we recorded was a website with 1138 broken links in total. In average the sample we tested had six broken links per website.
Naughty But Nice
There is one cheeky broken link tactic known to SEO professionals. It's not exactly against search engine guidelines but is definitely clever. Find websites which link to your competitor's pages and when you discover an outdated link send them an email and suggest that you have a page that works and they should link to that instead. If you happen to have a matching page with great content this tactic could yield some nice links and will help the webmaster you contacted provide better user experience by replacing the broken link with your own resource.
Dan Petrovic, the managing director of DEJAN, is Australia's best-known name in the field of search engine optimisation. Dan is a web author, innovator and a highly regarded search industry event speaker.
ORCID iD: https://orcid.org/0000-0002-6886-3211
---
---