In the order of importance, the trust factors for online content are:
Content Properties. Title, spelling, grammar, style, language and presence of quick answers.
Proof. Quotes, links, references and citations.
Publisher Reputation. Brand, website or publisher reputation.
Author Reputation. Familiarity with the author and their previous work.
Social Proof. Peer review, communities, comments and social media.
Cross-Checking. Facts are often seen as true if found on other web properties.
Advertising. Presence, quantity and quality of ads.
Intuition. Some web users use their "gut feeling"when judging trust online.
Security. Encryption, information safety, authenticity and virus-free environment.
Bias. Evidence of objective, bias-free information.
Date. Presence of publishing date. Content age.
Visual. Aesthetics, design, function, formatting and structure.
Pictures. Presence of visual media including photos and graphics.
In 2015 we explained how users read online and a follow-up study in 2016 revealed what people think of web links. This time we're exploring the trust factors for online content, or in other words, understanding the clues web users employ to decide whether online content is trustworthy or not.
Our data collection involved an open-ended survey involving 1,000 web users. Each user was asked to describe what quality signs they look for when evaluating online content. We used custom-built software to surface the top concepts by grouping similar themes together, for example "brand", "ABC", "gov", "URL", "paper" all fall under "Publisher". In our analysis a single respondent could have contributed to multiple concepts in the same answer. For instance "corroboration, quality of ads, correct grammar and spelling" contributed to two themes, "Content Properties" and "Presence of Ads".
Content Properties
Content quality is the primary factor in trust building online, however it's important to mention that this category represents a cluster of various sub-themes including:
Basics. Includes spelling and grammar.
Language. Tone, skill and style of writing.
Answers. Presence clear answers, particularly in the first paragraph.
Title. Quality of the title and presence of click-bait.
Usefulness. Overall satisfaction with the quality of information.
Facts. Factual, research-based writing.
Proof
Our study into what web users think of content links revealed that most see it as a marketing, revenue generating system, but the second most prominent reason was also to supply relevance, context and detail to the story with only 3% of respondents mentioning "Proof and Reference". So here's an interesting twist, we found that despite the negative sentiment towards links on the web, they also play a major trust factor when users evaluate whether to trust a statement made online or not. The key to successful link placement is context.
Publisher
The third most important factor in judging content trust online are website reputation signals. These include strong brand familiarity, track record of quality content or being an academic/government resource. When facing unfamiliar publisher for the first time users will look up its credentials by visiting "about us" and "contact us" pages or looking it up in a search engine.
Other Signals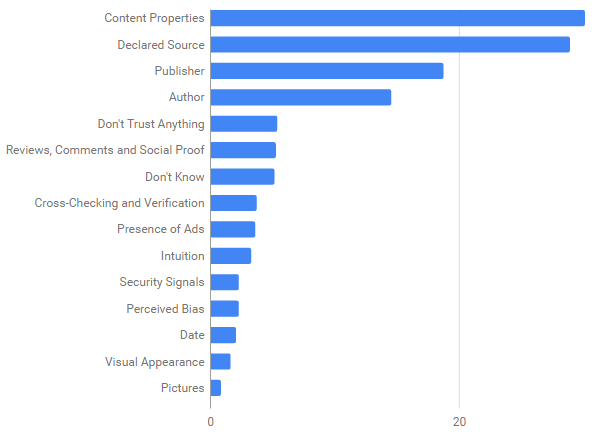 Survey Summary Table
| Concept* | % | Answers |
| --- | --- | --- |
| Content Properties | 30.13% | 273 |
| Declared Source | 28.92% | 262 |
| Publisher | 18.76% | 170 |
| Author | 14.57% | 132 |
| Don't Trust Anything | 5.41% | 49 |
| Reviews, Comments and Social Proof | 5.30% | 48 |
| Don't Know | 5.19% | 47 |
| Cross-Checking and Verification | 3.75% | 34 |
| Presence of Ads | 3.64% | 33 |
| Intuition | 3.31% | 30 |
| Security Signals | 2.32% | 21 |
| Perceived Bias | 2.32% | 21 |
| Date | 2.10% | 19 |
| Visual Appearance | 1.66% | 15 |
| Pictures | 0.88% | 8 |
*Nonsensical answers were grouped and removed from the table.
Dan Petrovic, the managing director of DEJAN, is Australia's best-known name in the field of search engine optimisation. Dan is a web author, innovator and a highly regarded search industry event speaker.
ORCID iD: https://orcid.org/0000-0002-6886-3211
---
---