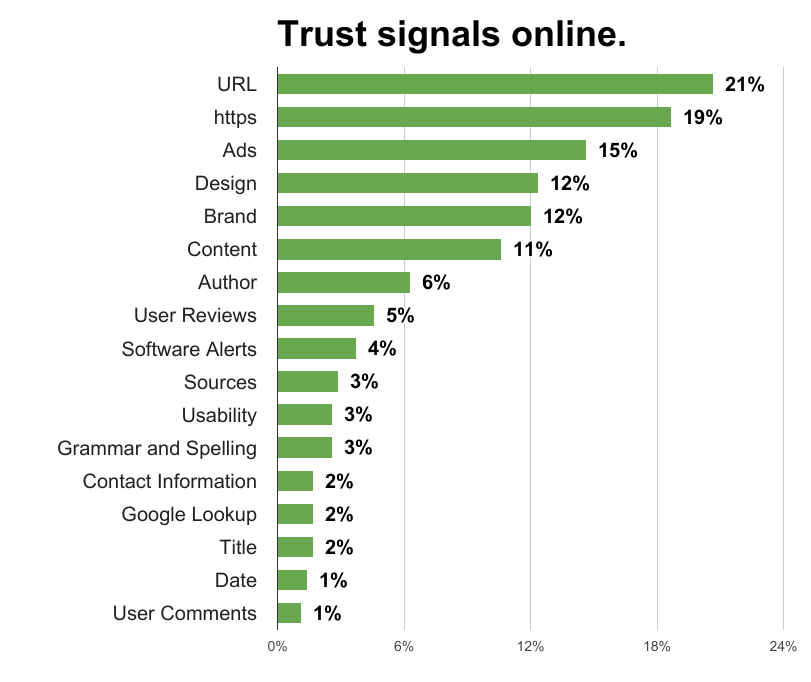 URL, Encryption and Brand Name
Primary trust signal on the web is the URL of the page which is used to establish two main criteria:
Domain.
Encryption.
Around 21% of surveyed users check the URL to establish whether they're on the intended domain name and 19% look for encryption symbols in their browser's address bar. The two factors already account for 40% of all answers in the latest web trust survey. Brand awareness signal appears to be strongly linked with URL as well. Users tend to check both URL and brand instances on the page such as logos, images and text. URL and brand alone (12%) add up to more than half of the answers in the survey.
Visual Appearance
Advertising
Presence (and poor quality) of ads is a strong negative signal for about 15% of surveyed web users with particularly strong dislike for pop-ups and clickbait.
Design
Around 12% of users reported clean, professional, contemporary design to be their primary trust signal. Interestingly, as a subset of design, "images, pictures, photos" was also a common occurrence although in this case attributed to "design" instead of "content" category which is perhaps equally suitable.
Content and Authorship
Around 11% reported quality of content to be the primary trust signal, with very strong awareness and negative sentiment towards "clickbait". Six percent of surveyed users quote familiarity with the author to be the main trust factor. Additional content-related signals include:
Grammar and spelling: 3%
Sources: 3%
Title: 2%
For a more detailed study into content-specific trust signals see the following article:
Here's how web users decide if online content is trustworthy.
Other Factors
Interestingly social media signals such as shares, likes and followers didn't make it to the list, instead people tend to turn to community via reviews and comments. While some users place their trust into software alerts (including operating system, browser and anti-virus notifications), others prefer to perform manual lookup, primarily via Google, or looking for a sign of "Google Trust" or partnership. Other notable on-page factors include usability/functionality, date/frequency of updating and contact information including physical address, phone numbers and about us page. A small sub-set of that group tend to trust pages from their own country more than international sites, particularly if they're official government pages.
One of the surprises in this survey was that people do look at the page footer (e.g. "small text at on the bottom".)
Update: Full Sample & Table of Results
We've updated the analysis by factoring in twice as many answers including the full survey data-set, while this has changed some values the main factors remain the same and in the same order of significance:
| | | |
| --- | --- | --- |
| URL | 17% | 140 |
| https | 15% | 124 |
| Ads | 13% | 108 |
| Design | 13% | 106 |
| Brand | 11% | 89 |
| Content | 7% | 56 |
| Author | 5% | 39 |
| User Reviews | 3% | 24 |
| Software Alerts | 3% | 26 |
| Sources | 2% | 20 |
| Usability | 1% | 12 |
| Grammar and Spelling | 2% | 18 |
| Contact Information | 1% | 9 |
| Google Lookup | 2% | 15 |
| Title | 2% | 15 |
| Date | 1% | 8 |
| User Comments | 1% | 6 |

Download: Raw Survey Data
Survey Date: April 2017
Geography: Australia
Dan Petrovic, the managing director of DEJAN, is Australia's best-known name in the field of search engine optimisation. Dan is a web author, innovator and a highly regarded search industry event speaker.
ORCID iD: https://orcid.org/0000-0002-6886-3211
---
---