You know that feeling when you're looking to buy something online and you land on a category page of some online store listing products they offer in a nice little grid, and you're scrolling down this grid looking at their products and then… BANG! A big piece of text appears right underneath those products.
This is some sort of small print? A user would think.
This is an SEO friendly text. A search engine optimizer from 2005 would think.
This is wrong in so many ways. A white hat modern SEO would think.
You proceed to read the text (not if you're a normal visitor, but lets say you're actually going to read it). Text makes no sense. Adds absolutely nothing good to your shopping experience. You didn't learn anything. You just read the word "bags" 17 times in 2 paragraphs.
Why do we still see these "SEO friendly texts" on eCommerce websites in 2013?
Maybe a better question would be, why does it still work?
There are some things in the world of search engine optimization that used to work but no longer work. There are some things that shouldn't work anymore but still do, and then, there's a perfectly good explanation for why a few such things actually still work. This issue is the one I believe has a perfectly good explanation.
Lets do a search for "bags", shall we: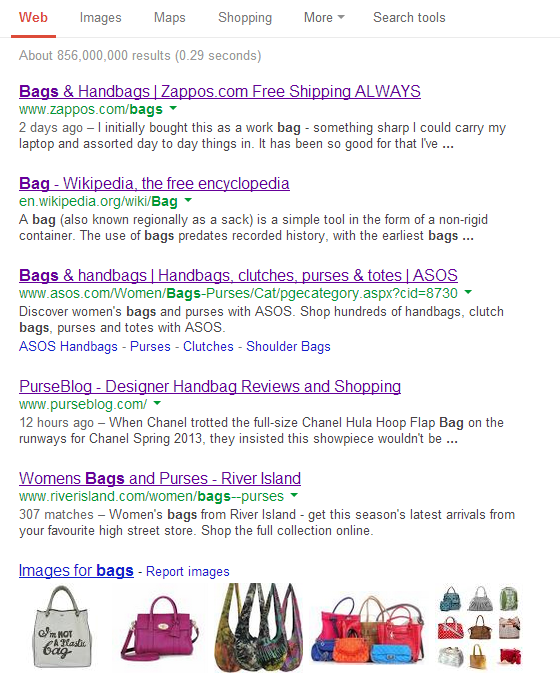 A well known brand – Zappos – on the top. Lets have a look at that page they rank with: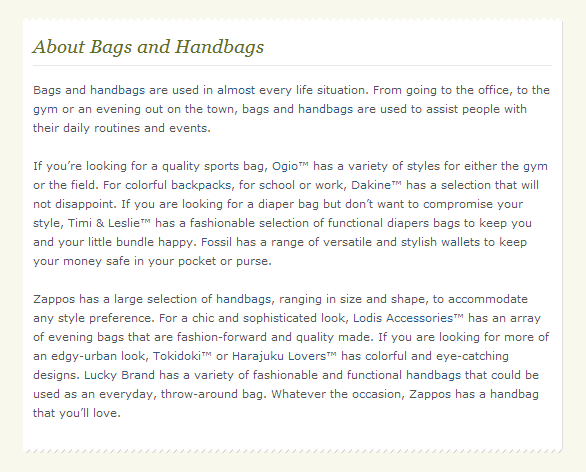 BANG! There it is!
We can debate now if this text is making Zappos rank or if it's ranking despite this text, but let me tell you my theory:
Two magical words: Search Intent
I think Zappos's SEO knew exactly what he/she was doing when they've put this text here because of the search intent.
Scroll up the article back to the search results screenshot. What do you see?
There's Zappos, there's Wikipedia entry about "Bag", there's a blog about "bags", there's another online store (also with not so SEO friendly text underneath the products grid), and then there are images of bags.
What does this tell us?
That for this very broad search term, Google is not sure of searcher's intent. It's not clear if searcher wants to shop for bags, learn about bags or look at some pictures of bags.
For such a search, text "About bags" on Zappos might be useful in the eyes of Google's algorithm.
Lets see what happens if we help Google understand our search intent a bit by searching for "bags for sale":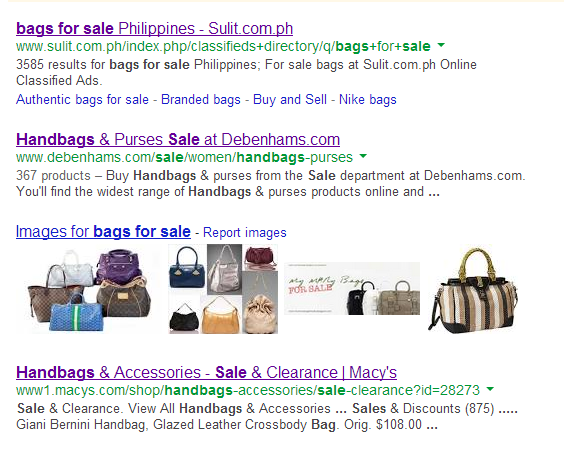 No Zappos over here. Search intent is clear. I want to buy bags and I'm not interested in text about bags. First result? No "SEO friendly text" there.
As you can see, on-site optimization requires understanding of search intent, or at least of what Google considers searcher's intent for those keywords.
If you go deeper into Zappos pages, you'll see that when they're targeting keywords where search intent is clearly shopping, there's no "SEO friendly text" on those categories, for example – "shop purses".
Key takeaway:
Look at the search result page for the keywords you're trying to rank for. Try to understand what Google thinks the search intent for this keyword is and optimize accordingly.
Do you know any other examples of how understanding the search intent helps you optimize your website?
Dan Petrovic, the managing director of DEJAN, is Australia's best-known name in the field of search engine optimisation. Dan is a web author, innovator and a highly regarded search industry event speaker.
ORCID iD: https://orcid.org/0000-0002-6886-3211
---
---
---