OK, so you've secured some quotes for link building and SEO work, compared prices and thought about value for money. Since you don't have time and patience for all this fancy content development, outreach and networking you decide to go with a cheap link building company or hire a few amateurs on Elance.
Your instruction to them: "Make me some links, many links, here's my anchor text." – What can go wrong, right?
Try searching for things like:
filetype:xls pagerank elance
filetype:csv pagerank URL email
Use your imagination and creativity with these: xls,csv,pdf,pagerank,pr,alexa,URL,email,username,password,email,elance,index of…etc.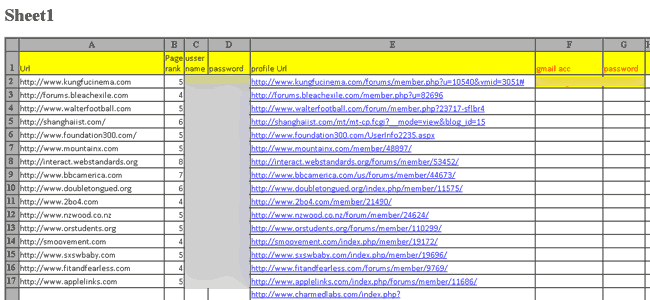 More examples:
http://bit.ly/AsRd4z (link report for an online pharmacy company)
http://bit.ly/yMxp1x (link report for a furniture company)
http://bit.ly/ws81j2 (personal profile links, usernames and passwords included)
http://bit.ly/AiUOBQ (backlinks, link wheel and social bookmarking)
http://bit.ly/xzC5Ok (list of link prospects)
http://bit.ly/zTwi2e (link building targets with PageRank)
http://bit.ly/wJgtqL (blogger outreach campaign with contact emails)
http://bit.ly/x847gD (profiles, username and password on the right)
http://bit.ly/webZmK (link campaign approach including email styles)
http://bit.ly/xxY8vW (edu/gov and other high profile contacts with emails)
http://bit.ly/yOWRx9 (profile registration data)
http://bit.ly/As0Lxq (SEO report)
http://bit.ly/A2Aayl (Spammy link report)
http://bit.ly/xTDv07 (Link buying prices with instructions)
http://bit.ly/A2j4Wb (Link / SEO report, usernames, passwords, emails)
The list continues…
Now ladies and gentlemen, I leave it up to you to comment on the risks of some of these link building methods and jeopardy careless link builders put their clients in by uploading indexable link reports online.
Dan Petrovic, the managing director of DEJAN, is Australia's best-known name in the field of search engine optimisation. Dan is a web author, innovator and a highly regarded search industry event speaker.
ORCID iD: https://orcid.org/0000-0002-6886-3211
---
---
---