Organic search traffic can be improved without increasing rankings.
All search results compete for user attention. An attractive search snippet on the second position can get as many or more clicks as a poorly presented first result.
What is click-through rate optimisation?
CTR optimisation is a process of turning more impressions into clicks through increased snippet attractiveness.
Creating a "click magnet"
There are many factors which impact a user's decision to click on something, including:
Title and Description

Clarity
Appeal
Keywords
Call to Action
Curiosity
Message
Query Match
Intent Match

Special SERP Features

Knowledge Graph Panel or Carousel
Featured Snippets
Video / News / Image Results

Search Context
Attractiveness of Competing Results
Rich Snippets / Schema
Brand Recognition
Personalisation
Local Results
Rank
The list goes on…
Some of the factors listed above are outside of our control but the rest are all opportunities for higher CTR and more traffic. There are some obvious CTR optimisation opportunities here (schema, better title) but there are also some hidden gems as well.
Example: Video Results
Certain queries keep bringing up video results. As a result, your CTR is very low no matter how hard you work on your snippets. Instead of giving up on those queries, consider creating a YouTube strategy.
Example: Image Results
In the next example there are three factors reducing CTR that appear to be out of our control. Two are knowledge graph related (carousel and the panel) and the third one is image results.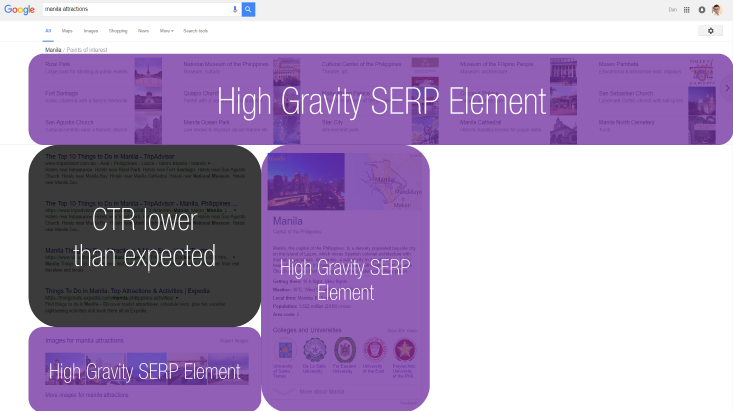 The reason image results are there is because Google thinks they're useful. The reason Google thinks they're useful is because of user behaviour and user choices. This means that image optimisation represents an opportunity. Here's a very detailed guide on image optimisation.
Even though CTR of results marked in dark grey are lower than expected, we can still take advantage of the situation by inserting some of our own images in the top five and, as a result, have the second asset appear in the same result page.
Pro Tip: Less is More
In a page full of busy search results, craft a short and elegant snippet with lots of white space around your listing. The user's eyes will be drawn to it and CTR will be higher than expected. We've used this method to stand out in search results for years now.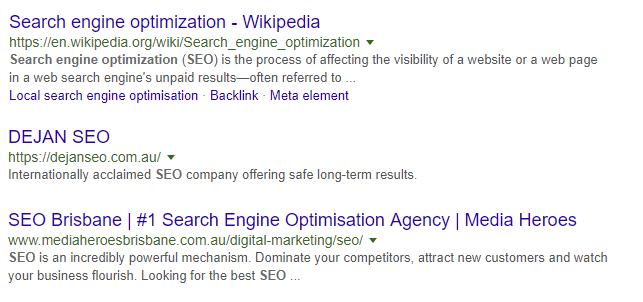 The Best Part
Your CTR data is available in Google's Search Console. Observe the figures and try to understand which queries and pages have very poor CTR values. That will be your starting point in getting more clicks from the same rank.
Conclusion
CTR optimisation is by far the quickest and cheapest way to drive new organic traffic. This is also very basic SEO, which often gets ignored.
Before you start chasing links and dreaming up major content marketing campaigns, make sure your SERP snippets do not create a bottleneck for traffic.
Predictive Analytics Framework: Next Up
This is the first in the predictive analytics framework article series. Soon, I'll be going much deeper into the process by covering the following topics:
Focus. Prioritising optimisation activities. (coming soon)
Content. (coming soon)
Outreach. (coming soon)
Dan Petrovic, the managing director of DEJAN, is Australia's best-known name in the field of search engine optimisation. Dan is a web author, innovator and a highly regarded search industry event speaker.
ORCID iD: https://orcid.org/0000-0002-6886-3211
---
---