SEO industry has a knack for turning perfectly legitimate marketing disciplines into… something spammy. This is exactly what happened to the idea of press releases and the way they are distributed and picked up.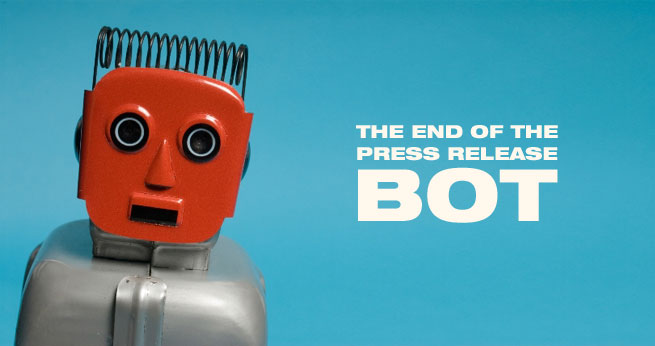 Googlers are aware of PR submission websites and very likely have ways of algorithmically handling well-known sources (PRWeb, PRWire…etc).  On the 26th December 2012, Matt Cutts from Google confirmed that PR submission is not an effective SEO strategy:
"…I wouldn't expect links from press release web sites to benefit your rankings…" Source
This is not limited to press releases though. Any source of links which may be making a dent on Google's link graph is needless to say factored in. Examples of this are parked domains and domain name information websites.
Other 'Submissions'
Here are the top four manipulative link tactics:
Directory Submission
Article Submission
Social Bookmarking Submission
Press Release Submission
And of course:
Comment Spam
Fake Profiles
Link Wheels, Triangles…etc.
You'll find these on pretty much any cheap, automated SEO program. If any of the above are on your "todo" list you should ask yourself if there are better things to to spend your time on.
Recognising Short-Lived / High-Risk Tactics
New techniques pop into existence all the time, so to quickly evaluate whether what you're doing is spam or not, here are the main qualifying criteria for webspam:
Fast (Often automated)
Easy (Not much work to implement)
Cheap (Ranges from $5 to $500)
Scalable (Easy to gain volumes)
Downside:
Low Quality (Bad image for the brand)
Low Value (No benefit to users)
High Risk (Search quality algorithm, manual action)
Hard to Clean-Up (When penalty hits)
Embarrassing (Association with spam)
Short-Term Benefits (Short-lived gain in rankings only)
Dan Petrovic, the managing director of DEJAN, is Australia's best-known name in the field of search engine optimisation. Dan is a web author, innovator and a highly regarded search industry event speaker.
ORCID iD: https://orcid.org/0000-0002-6886-3211
---
---
---