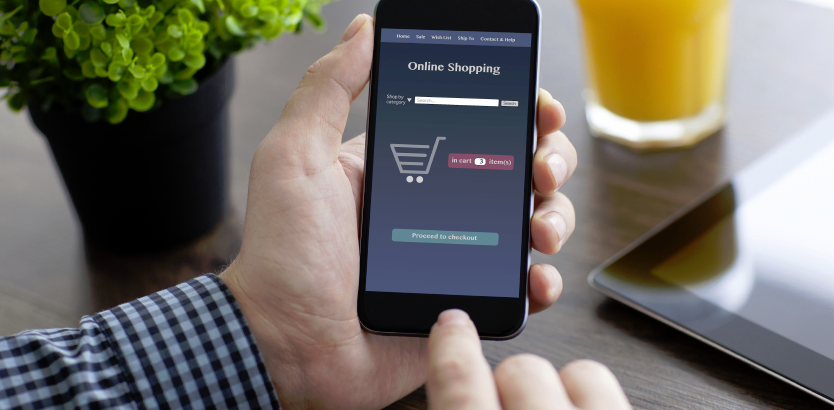 55% of Australians have purchased online using their mobile phone
2 out of 3 have spent more than $10 on an item
Low value transactions linked to digital products such as books, apps, games and phone credit
Repeated buying behaviour recorded in both high and low value spending groups
For the last five years we've been hearing how web users "research products and services on their smartphones and switch to their desktop or laptop to make an actual transaction". Unfortunately most of the studies into people's mobile purchasing behaviour are now out of date. A June 2016 survey involving 1,000 Australians shows that more than half have used their phone to make on online purchase.
Have you ever bought something online using your phone?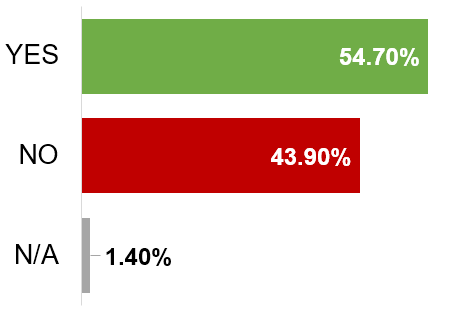 Our respondents (random gender, age, income and location distribution) answered an open-ended question by typing their response instead of selecting a preset answer. This has resulted in voluntary information including purchase frequency, types of items and other insights.
Virtual Products as a Bridge
Low-cost items including microtransactions, in-app purchases, music, apps, games and books appear to be the bridge towards higher confidence in mobile transactions.
"Yes I bought a book on the App Store from my phone", Melbourne
"Yes, mainly just things for apps. Never anything over $10 usually.", Hobart
"Yes. For example, from the google play store.", Adelaide
"Yes. I have bought books, games, cds etc.", Perth
Note: It would be interesting to see the results of a follow-up study which goes deeper into understanding the shift from microtransactions towards high value purchases and ongoing subscriptions.
Understanding Hesitation
In hope to understand the hesitation behind buying via mobile we've isolated the "No" group and filtered the data for hints of causes including usability, security, location, gender and age.
Women appear to be more reserved (44.8%) to purchasing online using their mobile phones than men (38%).



Our data shows that younger generations have greater confidence in smartphone transactions. Among those aged between 35 and 44 a total of 38.4% haven't made a purchase on their mobile phone, while 25-34 age group shows only 19.7%. Despite the fact that young generations dominate mobile buying, it appears that very young Australians (18-24) don't trust buying via their smartphone as much as the 25-34 group. Unsurprisingly, ages 45+ top the chart with over half of the respondents in each group stating they've never made a purchase using their mobile phone.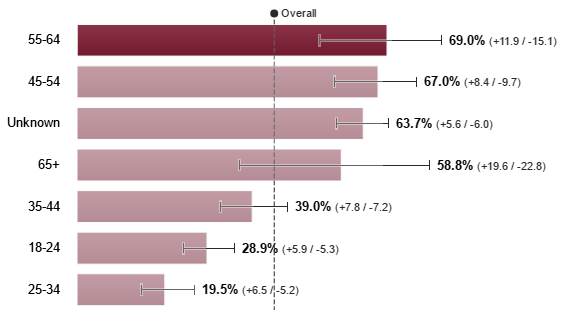 Most of our Northern Territory respondents have never made an online purchase with their phone. Australian Capital Territory is in the second place with 50% hesitation rate. All other states show less than half of respondents against mobile buying with Tasmania being the clear early adopter.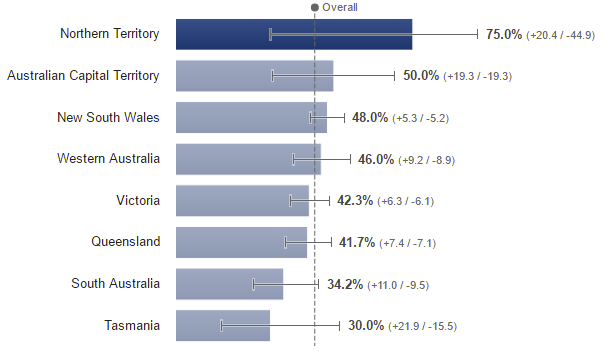 Some of our respondents have volunteered reasons for not buying on their mobile. One of the reasons was security, however qualitative study is required in order to determine the role of factors such as security and usability.
"No thats too dangerous.", User from Melbourne.
In November 2013, Google + Nielsen study involving 950 participants revealed five key findings regarding m-Commerce:
1. Consumers spend time researching on mobile
Consumers spend 15+ hours per week researching on their smartphone and on average visit mobile websites 6 times.
2. Mobile research starts with search
More smartphone users start researching about products or services on a search engine vs. a branded mobile site or app.
3. Location proximity matters to mobile consumers
69% of consumers expect businesses to be within 5 miles or less of their location.
4. Purchase immediacy is key
Over half of consumers want to make a purchase within an hour of conducting research on their smartphone.
5. Mobile influences purchases across channels
93% of people who use mobile to research go on to complete a purchase of a product or service. Most purchases happen in physical stores.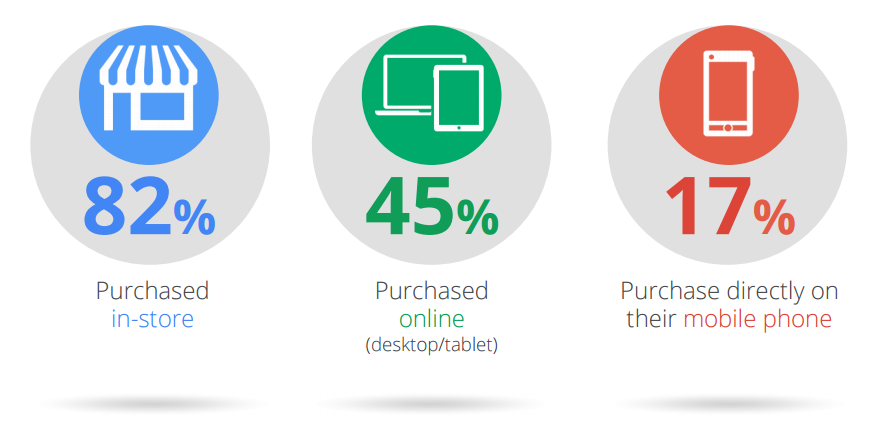 Case Studies
Data from ten online retailers shows that mobile devices are contributing towards 21% of total revenue on average. It's work in progress however, as mobile clearly underperforms in every metric. Smartphone users bounced 20% more, browsed nearly half the time and the number of pages. Conversions do take place on mobile devices, but only at 30% of what we'd expect from desktop users.
| | | | | | | |
| --- | --- | --- | --- | --- | --- | --- |
| | Bounce Rate | Pages Per Session | Session Duration | Transactions | eCommerce Conversion Rate | Revenue |
| Desktop | 35% | 5.95 | 0:05:40 | 10240 | 0.55% | $27,214,545.28 |
| Mobile | 55% | 3.75 | 0:03:04 | 2352 | 0.16% | $5,776,759.08 |
| Difference | 20% | 63% | 54% | 23% | 30% | 21% |
Data supplied by Conrad O'Connell from 91 Digital.
Conclusion
Smartphones are no longer research-only devices, people use them to make transactions and buy things.
---
Appendix: Full Case Study Data
| | | | | | | |
| --- | --- | --- | --- | --- | --- | --- |
| Site #1 | | | | | | |
| Device Category | Bounce Rate | Pages / Session | Avg. Session Duration | Transactions | Revenue | Conversion Rate |
| desktop | 28% | 7.92 | 0:05:09 | 668 | $1,200,145.19 | 0.55% |
| mobile | 38% | 6.26 | 0:03:58 | 140 | $266,089.84 | 0.13% |
| tablet | 32% | 7.5 | 0:05:28 | 164 | $310,869.08 | 0.34% |
| | 32% | 7.2 | 0:04:45 | 972 | $1,777,104.11 | 0.35% |
| | | | | | | |
| Site #2 | | | | | | |
| Device Category | Bounce Rate | Pages / Session | Avg. Session Duration | Transactions | Revenue | Conversion Rate |
| desktop | 31% | 7.6 | 0:07:38 | 3,337 | $10,329,930.87 | 1.02% |
| mobile | 52% | 7.9 | 0:03:57 | 727 | $2,044,227.56 | 0.28% |
| tablet | 40% | 8.32 | 0:07:17 | 671 | $2,090,157.23 | 0.59% |
| | 40% | 7.83 | 0:06:12 | 4,735 | $14,464,315.66 | 0.67% |
| | | | | | | |
| Site #3 | | | | | | |
| Device Category | Bounce Rate | Pages / Session | Avg. Session Duration | Transactions | Revenue | Conversion Rate |
| desktop | 27% | 6.57 | 0:06:35 | 600 | $1,597,998.03 | 0.36% |
| mobile | 46% | 3.65 | 0:03:46 | 125 | $300,741.83 | 0.09% |
| tablet | 35% | 5.31 | 0:06:16 | 115 | $297,186.56 | 0.19% |
| | 36% | 5.24 | 0:05:27 | 840 | $2,195,926.42 | 0.22% |
| Site #4 | | | | | | |
| Device Category | Bounce Rate | Pages / Session | Avg. Session Duration | Transactions | Revenue | Conversion Rate |
| desktop | 34% | 5.65 | 0:04:15 | 210 | $863,117.76 | 0.20% |
| mobile | 84% | 1.5 | 0:01:12 | 54 | $191,214.12 | <0.01% |
| tablet | 71% | 2.42 | 0:02:09 | 55 | $251,693.87 | 0.04% |
| | 75% | 2.17 | 0:01:44 | 319 | $1,306,025.75 | 0.04% |
| | | | | | | |
| Site #5 | | | | | | |
| Device Category | Bounce Rate | Pages / Session | Avg. Session Duration | Transactions | Revenue | Conversion Rate |
| desktop | 32% | 5.13 | 0:07:21 | 925 | $2,675,447.11 | 0.46% |
| mobile | 53% | 2.63 | 0:03:00 | 165 | $387,747.34 | 0.17% |
| tablet | 46% | 3.2 | 0:04:44 | 199 | $509,655.17 | 0.31% |
| | 40% | 4.13 | 0:05:44 | 1,289 | $3,572,849.62 | 0.36% |
| | | | | | | |
| Site #6 | | | | | | |
| Device Category | Bounce Rate | Pages / Session | Avg. Session Duration | Transactions | Revenue | Conversion Rate |
| desktop | 45% | 3.85 | 0:03:52 | 217 | $539,502.02 | 0.33% |
| mobile | 51% | 2.71 | 0:02:45 | 37 | $80,254.17 | 0.10% |
| tablet | 49% | 3.33 | 0:04:04 | 53 | $131,349.73 | 0.22% |
| | 48% | 3.41 | 0:03:34 | 307 | $751,105.92 | 0.24% |
| | | | | | | |
| Site #7 | | | | | | |
| Device Category | Bounce Rate | Pages / Session | Avg. Session Duration | Transactions | Revenue | Conversion Rate |
| desktop | 48% | 3.68 | 0:03:59 | 260 | $771,309.83 | 0.62% |
| mobile | 68% | 1.88 | 0:01:48 | 42 | $136,848.72 | 0.11% |
| tablet | 54% | 3.04 | 0:04:05 | 30 | $88,037.82 | 0.25% |
| | 57% | 2.85 | 0:03:06 | 332 | $996,196.37 | 0.36% |
| | | | | | | |
| Site #8 | | | | | | |
| Device Category | Bounce Rate | Pages / Session | Avg. Session Duration | Transactions | Revenue | Conversion Rate |
| desktop | 32% | 6.85 | 0:05:51 | 418 | $1,002,520.25 | 0.47% |
| mobile | 50% | 4.02 | 0:03:36 | 97 | $218,244.90 | 0.12% |
| tablet | 37% | 6.5 | 0:06:11 | 112 | $253,688.85 | 0.35% |
| | 40% | 5.69 | 0:05:01 | 627 | $1,474,454.00 | 0.31% |
| | | | | | | |
| Site #9 | | | | | | |
| Device Category | Bounce Rate | Pages / Session | Avg. Session Duration | Transactions | Revenue | Conversion Rate |
| desktop | 40% | 4.88 | 0:04:55 | 1,530 | $1,463,423.18 | 0.89% |
| mobile | 57% | 3.13 | 0:03:02 | 390 | $324,600.31 | 0.26% |
| tablet | 49% | 4.09 | 0:04:44 | 276 | $244,036.19 | 0.58% |
| | 48% | 4.08 | 0:04:09 | 2,196 | $2,032,059.68 | 0.60% |
| | | | | | | |
| Site #10 | | | | | | |
| Device Category | Bounce Rate | Pages / Session | Avg. Session Duration | Transactions | Revenue | Conversion Rate |
| desktop | 32% | 7.36 | 0:07:06 | 2,075 | $6,771,151.04 | 0.58% |
| mobile | 54% | 3.82 | 0:03:38 | 575 | $1,826,790.29 | 0.21% |
| tablet | 41% | 5.66 | 0:06:18 | 509 | $1,664,383.40 | 0.44% |
| | 42% | 5.79 | 0:05:42 | 3,159 | $10,262,324.73 | 0.42% |
Dan Petrovic, the managing director of DEJAN, is Australia's best-known name in the field of search engine optimisation. Dan is a web author, innovator and a highly regarded search industry event speaker.
ORCID iD: https://orcid.org/0000-0002-6886-3211
---
---