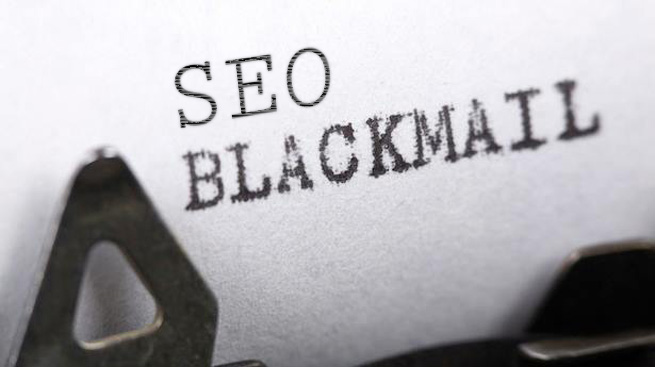 Over the years we have been a target of various negative SEO campaigns. This morning's email tops it all though.
The sender doesn't beat around the bush and makes it very clear saying: "this is an extortion email".
Subject: I Want To Buy. Please Guide Me.
Hello,
Read this email very carefully.
This is an extortion email.
We will do NEGATIVE SEO to your website by giving it 20,000 XRumer forum profile backlinks (permanent & mostly dofollow) pointing directly to your website and hence your website will get penalised & knocked off the Google's Search Engine Result Pages (SERP) forever, if you do not pay us $1,500.00 (payable by Western Union).
This is no false claim or a hoax, download the following Notepad file containing 20,000 XRumer forum profile backlinks pointing to http://www.negativeseo.cn.pn/ (this is our website and go and see on this website, you will find our email address issmt1@yahoo.com from which this email right now is being sent to you) :
http://www.mediafire.com/download/eizjwnpq2rsrncu/20000-XRumer-Forum-Profile-Backlinks-Dofollow.txt
Just reply to this email to let us know if you will pay just $1,500.00 or not for us to refrain or not from ruining your precious website & business permanently. Also if you ignore this email and do not reply to this email within the next 24-48 hours, then we will go ahead and build 20,000 XRumer forum profile backlinks pointing directly to your website.
We are awaiting your wise decision.
RS
I've backed up the list of URLs in case they decide to take it down. Feel free to enrich your disavow file in case you get attacked by these people.
No Attack, Yet
Fresh Link Finder report is so far clean so it looks like there hasn't been an attack yet: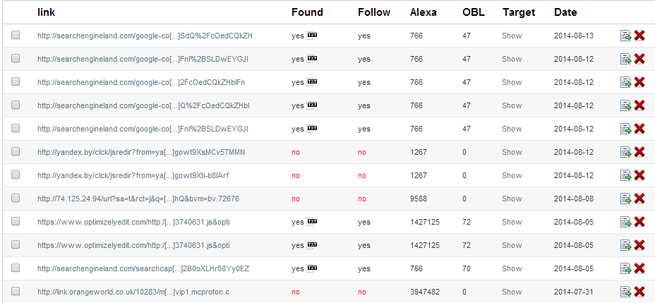 This was most likely a blanket email to a whole bunch of businesses but we'll be keeping an eye on it just in case.
We have (together with many other webmasters) taken proactive steps and encouraged Google to introduce a mechanism of dealing with malicious links. Google's original view towards negative SEO eventually shifted from "can't harm" to "may harm" angle and they ended up created a link disavow tool. Let's just hope this is enough.
Google's Reaction
Barry Schwartz's contact at Google has commented on the situation, here's what they said:
We forwarded these negative SEO extortion emails to Google and Google responded that they have "investigated" the claims. They added that it is "unclear how credible this threat really is." Google told us their "algorithms are designed to prevent these kinds of activities from causing problems for webmasters." Source: Search Engine Land
We're Not Alone
A bunch of our readers and friends have received the same email. Steve Webb from Web Gnomes was one of them, you can read his personal review here. He also proved that the threat is indeed credible, despite Google's doubts:
"I have sent emails to 60+ webmasters about this negative SEO and some of them has responded positively and some of them have responded negatively. You are the only one who has responded anonymously. Those webmasters, who are responding negatively or not responding at all, will have their websites done with the negative SEO, including you, if you do not pay up." Source: Web Gnomes
Steve also published the attacker's (or their proxy's) details including name, address and phone number.
2016 Update
Just a quick update on a recent DDoS attack where the attacker asked for $900. The best part was the "best regards" at the end of their email.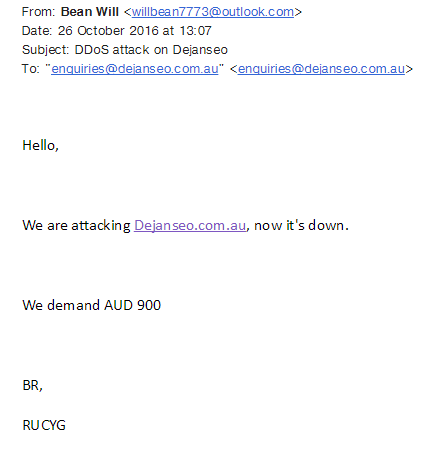 Dan Petrovic, the managing director of DEJAN, is Australia's best-known name in the field of search engine optimisation. Dan is a web author, innovator and a highly regarded search industry event speaker.
ORCID iD: https://orcid.org/0000-0002-6886-3211
---
---