In our two recent experiments we created a number of pages copied from other domains, both cases got much attention but it seems it also got the attention of Google's search quality algorithm.
Today we've received the following message: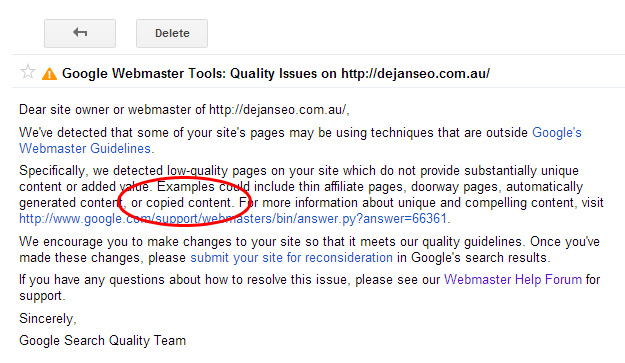 This is good news for all webmasters out there and a sign that Google does care about us and our content.
Further to this Rob Mass, the original experiment participant, has noticed that our page is no longer showing for some searches as Google's algorithm attempts to resolve the content/page ownership.
Still no comment from Google, but I'm satisfied with the outcome so far and will be taking our experiments down in order to resolve the quality issue created on our website due to the recently added copied content.
Update: All test pages have been stripped down and replaced with the experiment end notification.
http://rand.dejanmarketing.com/
http://rob.dejanmarketing.com/ReferentieEN.htm
http://shopsafe.dejanmarketing.com/
http://dsq.dejanmarketing.com/
End Message
What Google is telling us here is that if you're a spammer, sooner or later, you will be caught.
Dan Petrovic, the managing director of DEJAN, is Australia's best-known name in the field of search engine optimisation. Dan is a web author, innovator and a highly regarded search industry event speaker.
ORCID iD: https://orcid.org/0000-0002-6886-3211
---
---
---