This is an inspiring article for those involved in optimising eCommerce site and struggling with content quality.
You run an online store and have hundreds or even thousands of products. You're pretty happy with its structure, pages are canonicalised, conversions are decent and you just need some more traffic. You really know what the problem is, but don't have a solution for it.
And then somebody from Google tells you that your content is not unique enough and they wish to see more depth. SEO professionals will agree.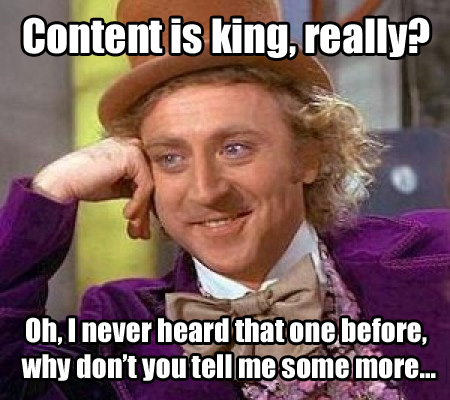 To create one excellent product page, and I mean a truly extraordinary page with useful content, unique angle, research, advice and such, you could use up nearly a full day. It could also cost you $200 or more. Repeat that with your 500 other product pages and you're done.
You will spend two years and more than $100,000 and finally have 'great content'.
In the meantime…
Your competitor scraped and spun with more link juice than the whitehouse.gov, courtesy of hidden text and hacked Chinese, Estonian and Russian government and university websites. They grew by 500% in the last 24 months and have hired more people than you'll ever have. Finally they get penalised, move the domain and tell their broker to re-route the paid links.
Rinse and repeat.
How can you compete with this?
You will have to be smart and value your time. Automate anything that can be replaced by a script, leaving you with tasks that require intellect, judgement, product knowledge and good old common sense. Here's how I see the whole process: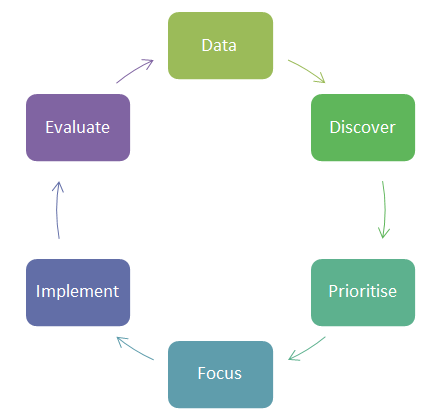 On its own, the above diagram is just a bunch of concepts and arrows going in circles, but there is wisdom in it, trust me. To help you think about the process I will elaborate on each point and provide examples.
Data
Relying on intuition in prioritising work can be valuable, but never as a starting point. Your knowledge and bias may be preventing discovery of extraordinary little jewels. You can gather useful data in many ways:
Raw Server Log Files
Web stats
Analytics
Custom traffic and event tracking
Google / Bing Webmaster Tools
Other 3rd party software
Discover
I am particularly fond of Google Webmaster Tools in discovery of hidden opportunities. Two examples of things you can discover are:
Pages with great potential
Phrases with great potential
Some of your pages may enjoy extra links and traffic due to a certain element or characteristic feature; this is worth investigating and potentially replicating on other pages.
Likewise some phrases may have plateaued and no longer have potential to move forward. Say you're trying to focus on increasing rankings for the phrase "re-work book" and you find yourself outranked by the official book author website, amazon and a book review website.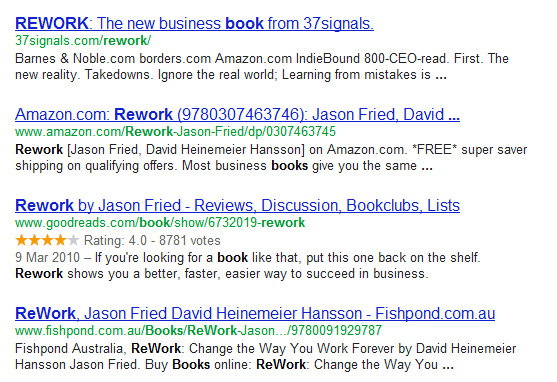 What's happening here? Well, this is a prime example of Google's result diversity. This search term is ambiguous and search engine is unsure whether your intention is to research or buy the book so it's serving its users a range of result types, sorted in order what they think is the importance. This includes traditional signals such as PageRank, link equity, social signals, on-site elements as well as history of user choices (CTR) when presented with these results over time.
Can FishPond.com.au do anything about this? Arguably they have already reached the highest realistic position possible given their domain authority and capacity to rank. One thing that goes in their favour is local presence (.com.au) and this can in some cases override link metrics.
Prioritise
If you think you can do this for each product you sell then you're probably out of your mind. The sheer scale of most serious online stores is frightening so prioritising tasks needs to start with a degree of automation leaving you with a clear overview to adjust, tweak and fine tune.
Luckily you have your data to rely on, and some of it will be provided directly by the search engine (Google/Bing). You can't beat that!
So what you look for are phrases and pages which have the capacity to move up in the results as these will be the areas of your focus.
Here are some useful pieces of data search engines will provide:
Query: What people typed in when you appeared in search results
Impressions: How many times you appeared in search results, based on your position
Clicks: How many people have clicked on your website in search results for that query
CTR: Your clickthrough rate from search results for a particular search term
Average Position: Averaged position of your website's highest ranking page for the term
Change: Impressions, Clicks, CTR and Average Position also change over time
Observe the above and learn new things about search behaviour of your users. You can use this to your advantage in several ways:
Detect pages with low CTR, improve meta description and title if possible
Discover pages with high CTR but low rank, these likely have high potential
Find high impression, low rank/click phrases, increase in ranking may be required
Learn about your most popular content and get ideas on how to leverage it further

You only have so many hands, so why grab for the rocks, pick the good stuff first!
At Dejan SEO we have developed a type of phrase potential calculation methodology which relies on website's own data to generate average CTR values per position in Google. We also factor in any abnormal deviations from the website's CTR norm and normalise predictions for any phrases which have unusually high or low CTR in comparison to the rest of the website.
This allows us to sort our list of phrases by estimated traffic following the ranking increase for any given phrase. Additional layer to this calculation is introduction of conversion rate and goal conversion values. You can do all this in a spreadsheet, but to save time you can use a tool like this [video]: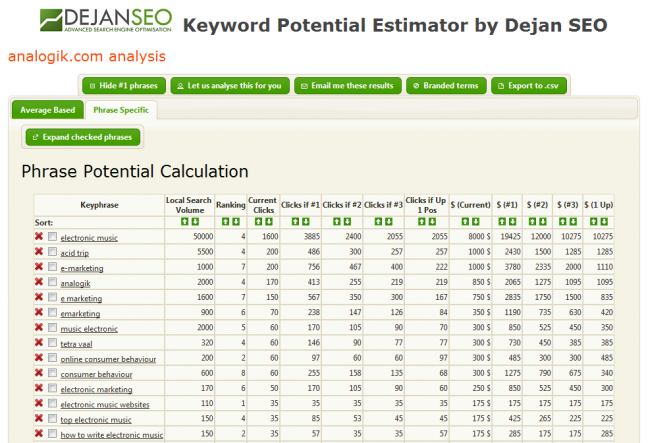 Pro Tip: By adding qualitative metrics (PageRank, MozRank, Flow Metrics…etc) you can compare the strength of the pages which outrank you and gauge the likelihood of taking over their spot.
Focus
Once you have clear targets in mind (both pages and keywords) it's a good idea to coordinate your promotional activities and content development towards those resources only. If you are unsure which page attracts which keywords, you can log into Google Webmaster Tools and click on any URL in the traffic stats. This will reveal any phrases used to find that page in search results. Similarly you can click on a keyword in the list and it will display all applicable URLs.
Here's an example of how that looks like: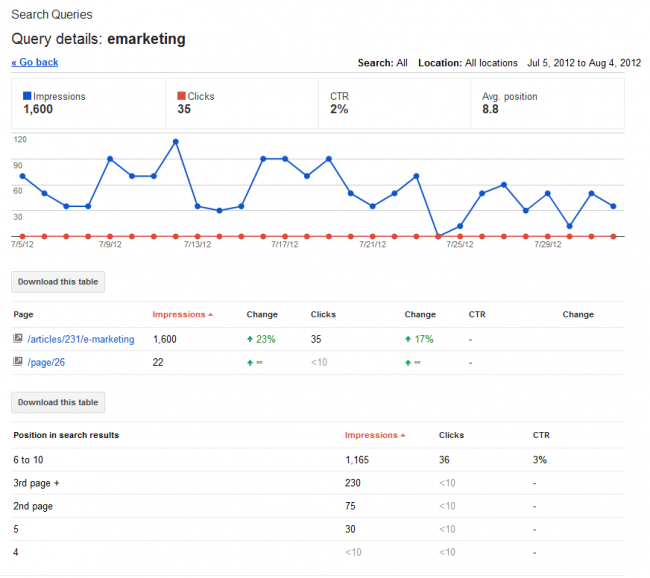 From the above we learn that there are two pages which rank for the search term "emarketing" but most clicks come from when they are on position 6-10 (first page). Second and third page receive a negligible amount of views and an insignificant amount of clicks.
Finding fewer internal pages competing for the same keyword is not a bad thing. More focus the better.
Once you have discovered all your pages and keywords, keep them documented in a neat list and star them in Google webmaster tools so you can easily track them in the future. Don't forget to export the data from time to time as Google only offers about 90 days' worth of data and only 30 days with change metrics.
If you've done all of the above (or something comparable) you're in a good position. Now you are targeting few key pages instead of thinking large-scale. It's going to take a long time and a lot of money until everything is covered, but your priorities are set right.
Implement
Implementation means that you're applying all your research and findings into a content strategy and SEO. This may start with basic things like on-site adjustments (titles, alt tags, product copy) towards more creative solutions.
Here are some examples:
Allowing UGC (user-generated content)
Product recommendations (your own expert opinion and advice, interesting facts)
Product Statistics:

Price trends
How many users bought it
Demographics
Aggregated review data

Generate a social stream for the product

Enable tweets, likes, +1's and shares.

Copy-paste wishlist code with a link to the product for blogs and social networks
Easter eggs!
Some of you may say, by the time I add all that 'fluff' my conversion rate will be 0.001%. Right? Well, there are creative ways to embed rich and useful content both people and search engines will love and maintain a high converting layout.
Here's one example – Tabs!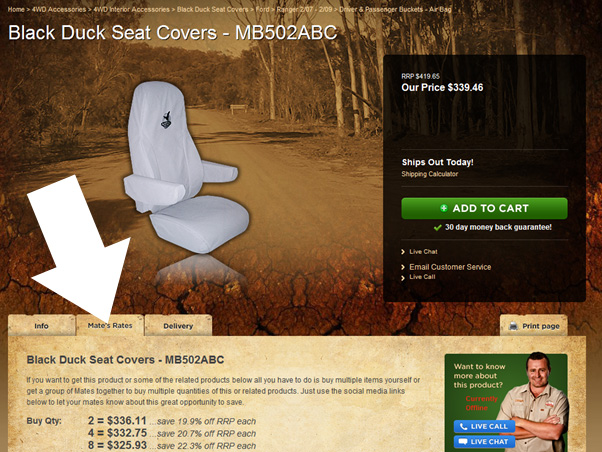 Notice how neat this layout is. The main CTA (call to action element) is the most prominent feature on the page, while all the additional info is still available for those interested in reading more before buying.
The problem with product pages most of the time is that they are simply not linkworthy. The most linked content on your domain will be your blog. This is not where you want your links to point to if you want your products to rank, however you should never turn down a link.
Leverage the popularity of your blog content and provide targeted and useful link to your key products from relevant posts. Don't just use text links; think about images as well. They tend to convert into clicks really well as they are more interesting to users than plain text links.
Finally, think of your key product pages as blog posts. They should be fun, interactive, informative and linkworthy.
Bonus Tip: Run a competition and announce the winners of your product giveaway but not on your blog or news page. List their name under the 'winners' tab on that same product page and hash it so it's directly reachable in a browser when shared.
Example: http://mywebsite.com.au/category/productname/#winners
Now instead of your blog these people are linking up your money page!
How awesome is that?
Evaluation
Once you implement all planned changes and new exciting content, keep an eye on performance of these specific pages. Things to monitor include:
Ranking movements
Organic traffic / clicks
Social signals and engagement
Conversions / Sales
New inbound links
Most of the above are easy to retrieve but many webmasters are not sure  how to find their latest links. Good news is that Google has a tool or two for that.
Pro Tip: Analyse your log file on a regular basis, retrieve all links and build up a database of referrers. Alert yourself each time traffic comes from a link not already in the database. We have already created one such tool, if you would like to test-drive it ping us on Google+ thread for this post.
Back to Data
Ha! Now it's your time to rinse and repeat, except you're not knee-deep in blackhat tactics like your competitors.
Go back to your data and find more exciting phrases and pages you can push. Ensure that they have potential to move up. Each cycle will be easier than the one before as you gain routine and optimise your process.
This is not going to be a quick war but instead of giving up, you will be winning series of small battles – each one with its own rewards, new customers and more products sold than ever before.
All this, knowing you can sleep well at night and not worry about penalties and quality filters.
Dan Petrovic, the managing director of DEJAN, is Australia's best-known name in the field of search engine optimisation. Dan is a web author, innovator and a highly regarded search industry event speaker.
ORCID iD: https://orcid.org/0000-0002-6886-3211
---
---
---