LINK MIGRATION PROGRESS
PageRank style progress bar indicating our link migration progress.
What's going on here?
You're looking at a link migration experiment as an alternative to typical 301 style website migration. The old domain (dejanseo.com.au) was penalised by Google for alleged unnatural links but instead of going through the usual reconsideration request process we're simply moving to another domain (dejanmarketing.com) and migrating the entire link profile. The extent of Google's penalty was so harsh that DEJAN website cannot be found even for brand terms or any of its sub-domains. This is a pretty serious penalty for a few links that slipped past disavow file and various other random junk Google tells us not to worry about. I looked, and I can't find anything seriously manipulative.
Do you want to be a part of the test?
Have you ever linked to any of DEJAN content? If the answer is yes, then all you have to do is to change the link target, for example:
OLD: dejanseo.com.au/article-name
NEW: dejanmarketing.com/article-name
If you're not sure if you've linked to us in the past look here and here and search for your domain.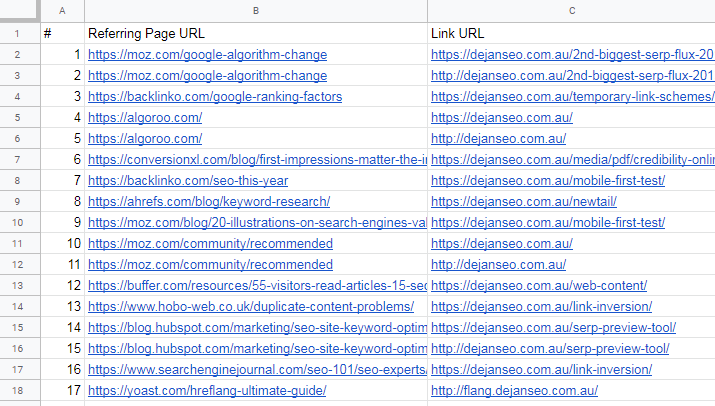 Other experiment parameters
We've noindexed the entire dejanseo.com.au domain and in time it will completely drop out of index. This should give rise to this very domain as the new canonical home for our content.
Please share this page.
---
Updates
Day 1: 23 August 2019
Instantly: 5 URLs in index
5 hours: 10 URLs in index
8 hours: 12 URLs in index
Our first link update made the target page pop-into index immediately. See details here.
New domain ranking on the second page for "Dejan SEO"
Day 2: 24 August 2019
Day 3: 25 August 2019
336 URLs in index for new domain
555 URLs in index for old domain (previously 697)
Changed some of the content, layout elements and meta data (reason)
Day 3: 26 August 2019
Revoked search console page removal
410 old domain pages
Day 4: 27 August 2019
419 URLs in index for new domain
558 URLs in index for old domain
Search Console showing decline for old and increase for new domain.
Added roughly 130 entries to disavow file
Reconsideration request submitted
Day 5: 28 August 2019
489 URLs in index for new domain
510 URLs in index for old domain
No reply from reconsideration request submission
I've decided to trim my link migration list to 1000 entries (previously 10,000+)
Deleted all pages on old domain, single 404 page remains for all URLs
Day 6: 29 August 2019
604 URLs in index for new domain
490 URLs in index for old domain
Found out our sysadmin accidentally gave us a link form one of our old sites (find/replace type error) on the 26th, money anchor text too of all things. I nearly fainted and then freaking deleted the whole site in question, I can't…
Day 7: 30 August 2019
592 URLs in index for new domain
503 URLs in index for old domain
Google's penalty broke, somehow. Search Console shows the penalty, and no news from Google on reconsideration request, however pages (other than home page for some reason) of the old domain now rank in results: https://www.google.com.au/search?q=dejan+seo and https://www.google.com.au/search?q=dejan+marketing
For the same query the new website (the one you're on) ranks on the 5th page.
This is different when you search for "Dejan Marketing"
As a reminder all pages are deleted on the old site.
Day 8: 31 August 2019
Reconsideration request approval
We identified the following and highlighted as our fault and cleaned up / disavowed:

Guest posts
Scholarship
Sponsorship

These are very old links (2014 and older) we forgot about and people who arranged them don't work for us anymore so it was impossible to trace any emails to ask for removal. They were added to disavow. Some were in disavow prior to manual action, but some slipped through.
Day 9: 1 September 2019
249 results for site:dejanmarketing.com (Search Console shows: 451 and 110 queries)
480 results for site:dejanseo.com.au (Search Console shows: 528 and 1000+ queries)
---
Other Updates
4 September
Set the location to Australia in the old Search Console
Successfully migrated 77 links (majority from my top authority list)
The old domain (deleted) pages still rival the new site (pretty annoying)
6 September
Currently the first two results for site: on the old domain are truncated URLs.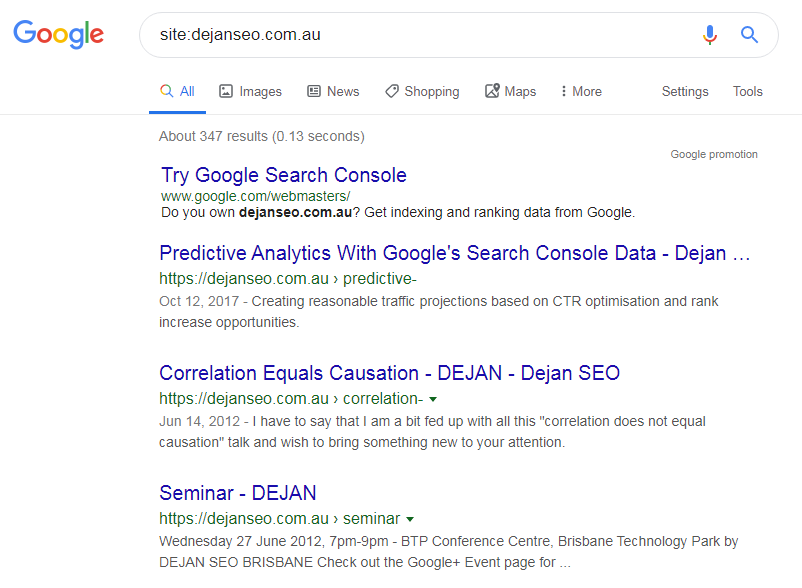 For example: https://dejanseo.com.au/predictive- is supposed to be https://dejanseo.com.au/predictive-analytics/, you can see the redirect in action here https://dejanmarketing.com/predictive- which leads to this https://dejanmarketing.com/predictive-analytics/
I'm not sure what this means. Perhaps now that all pages on the site are gone Google gives redirected URLs more chance to be found than those returning 410.
---
Various Ideas for the Cause
Hypothesis 1
While looking for something big and serious, Marie Haynes (mariehaynes.com) flagged the following URL (https://dejanseo.com.au/media/pdf/credibility-online.pdf) as a potential cause for the penalty.
I have no idea why I uploaded it, that's the honest answer. Maybe as part of the test to see who overtakes as the canonical URL for the PDF, but I can't find any links to it so can't be sure.
What Happened Next
Firstly, the canonical switch and link inversion did happen over time and suddenly Google showed my upload of the PDF in their results in favour of every other copy on the web. This is in my opinion only marginally interesting.
Here's the fascinating part. That PDF started to be referenced and earn organic links and academic citations.
Let that sink in for a minute.
Copy. Overtake. Earn links.
Holy cow.
Hypothesis 2
Jenny Halasz from JLH Marketing approached me with some very interesting data that I missed. It's in relation to a domain which appears to be compromised in such a way that makes it look like it's participating in a link scheme with my old domain. Unfortunately, I won't be sharing any details that disclose or point the domain in question, but will report on any new findings as the technical issue is being looked at and hopefully resolved.