Have you ever done any guest blogging? Here's a few tips on how to stay safe and avoid breaching search engine guidelines.
Choose Wisely
Google has 25,270,000,000 pages in their index. Imagine a tiny little fraction of their index to represent your guest blogging opportunities. That fraction would still likely represent thousands of different websites. There is no shortage of places to post and if you're investing time in writing excellent content, make sure its aimed at best and most trusted sites you can imagine. Value your time and avoid dealing with low quality sites and blogs which lack purpose and identity other than earn clicks from ads or sell links.
What to watch out for any combination of these:
Very few posts
Unrelated posts of commercial nature
Links with commercial anchor text
Templated look (logo, customisation)
Lack of blog identity (who is the author?)
Lack of authorship signals
Lack of social signals
Open invitations for link exchange or sales
Lack of editorial policy and quality guidelines
Good Link Today. Bad Link Tomorrow.
Good links you create today could turn into bad links tomorrow. Here's what happened to us recently. Some time after our post was published the webmaster sells some links to viagra websites: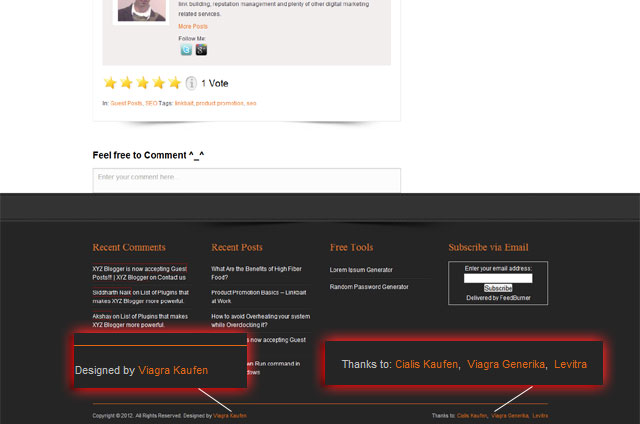 Luckily we had tools to monitor our links and have quickly spotted and requested link removal from the above blog.
Why does this happen?
Domains expire
Owners change
Webmaster receives a very lucrative link purchase offer
Websites and blogs get hacked
Some blogs do not apply nofollow to user generated content (e.g. comments)
Drop in editorial control and content moderation
What can you do?
Keep a database of your links including webmaster details if applicable
Monitor mentions of your brand (Google Alerts)
Monitor new links and linking pages (Google Webmaster Tools)
What to avoid?
Guest blogging automation
Strange request from people you cannot trust
Paid deals
Link schemes (link deals, swaps, triangles, rings, submissions, trades)
Excessive use of commercial anchor text in your guest posts
Finally, keep your posts interesting and useful to readers and link out liberally to as many other websites as it makes sense from your posts. If somebody offers to write for your blog and has very strict rules on anchor  text and number of outgoing links then you're probably looking at somebody who's only there to earn some links.
Guest posts and a great way to establish yourself as a trusted author and increase the reputation of your own blog. Remember to maintain high quality standards and keep a watchful eye on your guest posts to avoid falling into a bad neighborhood.
Dan Petrovic, the managing director of DEJAN, is Australia's best-known name in the field of search engine optimisation. Dan is a web author, innovator and a highly regarded search industry event speaker.
ORCID iD: https://orcid.org/0000-0002-6886-3211
---
---
---