Google+ wants real identities for both humans and organisations. There can be only one!
That said, look what happens when you search for "Red Bull" in Google Plus:

We're seeing two official Red Bull pages, both verified. So which one is real? Well they both are.
Red Bull Official Google+ Page
Status: Verified
Followers: 2,868,742
Social Score: 3,275,438
About: Maintained
Posts: 100+
Photos: 100+
Videos: 60 entries
Verified Website Link: Yes
Red Bull YouTube Channel Page
Status: Verified
Followers: 14,935
Social Score: 15,538
About: Empty
Posts: 13
Photos: 1
YouTube: 12 entries
Verified Website Link: No
Clearly the two should have been consolidated into a single profile, however, the process is tricky if you have Google+ page and YouTube channel on different Google accounts.
How did this happen?
In late 2013, Google+ and YouTube have merged their systems increasing page and content discovery on Google+. Once connected with your Google+ page, your YouTube channel will link back to your Google+ page.
Comments
YouTube comments now appear on Google+ stream and Google+ video shares and comments appear as YouTube comments. This is allowing Google to stream a huge amount of traffic to their social network. This is a good thing for marketers and you definitely should use it to your advantage.
Upvotes
Upvotes on YouTube translate to +1's on Google+. Thumbs up on YouTube are +1's on Google+. Thumbs down on YouTube removes the plus from the post which shared the Google+ video. To test how this works, share a YouTube video and +1 it from Google+ and then open the same video in YouTube. You will notice an extra thumbs up on it.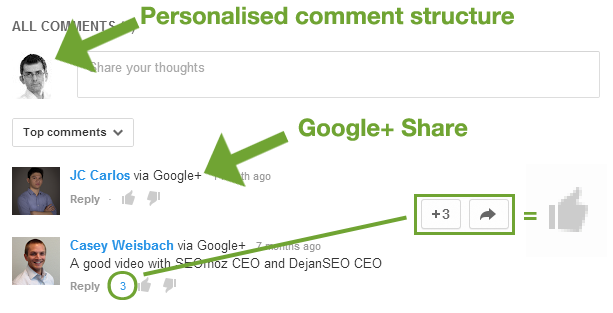 Personalisation
Those logged into Google will see comments structured in a different way than those who are not. It's no longer the timestamp, nor the success of a comment that brings it to the top. It's the social graph and your own connectivity on Google+.
Account Integration Issues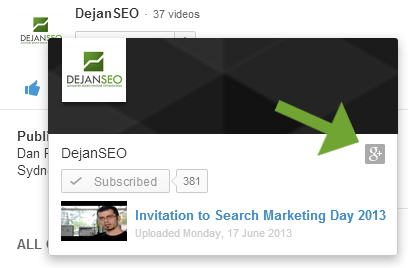 Google+ was rolled out in a rush and so have most of the follow-up merges. This means that features like Google Places, Picasa, YouTube, Gmail, Google Apps and others may be slightly disjointed.
One particular problem arises when users have separate Google accounts for their YouTube channel and their Google+ profile or page (e.g. one is connected to your personal account and one to an old company account used to create the channel). You want to make sure that your YouTube channel is properly linked with your official Google+ page and not some temporary page Google created for you as a result of a merge with YouTube.
Visit this page and check the channel integration with Google+. If you spot a wrong page attached to the channel you will be able to unlink it from this admin panel and later link the correct page. Note that it may take around 20 minutes for the change to propagate through Google systems:
"We are still completing the work needed to fully disconnect your channel from Google+. Connecting will be available in about 20 minutes."
You will also be offered an option to delete your old page which is not a bad idea in case you're trying to prevent page duplication where different users follow different pages, reducing your total followership on the main page.
Once corrected you'll be able to switch between YouTube accounts through Google's channel switcher URL. Channel switching screen looks like this:

Now all your channel and page activities should be working in sync. YouTube fans will be able to connect with the right Google+ page and vice versa.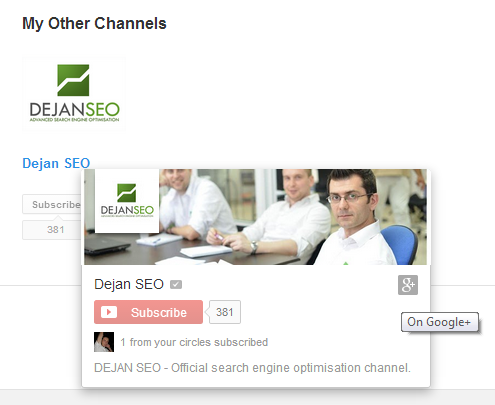 In the screenshot above you can see that in addition to showing the Google+ badge linking to your official page, Google also reports on which of your subscribers is also in your circles.
Credit goes to Robert Wallis who helped me sort out my own YouTube channel and Google+ page integration. His steps were as follows:
Connect the channel to Google+ as a person (profile).

Invite that person to be a manager of the Page.

Accept the invite (easiest way to do that is to view the page as the YouTube / Google account "person" and accept via the dialogue that is shown to "people" who have been invited).

Go to https://www.youtube.com/account or > advanced, and disconnect the channel from the account profile and attach it to the page that the "person" now manages. (YouTube can now list the page as an option because the account is a manager of the page).

Once the YouTube channel is correctly attached to the page the "Videos" tab for the page will read as "YouTube" (see below).
If you want your Google+ Page to be capable of running Hangouts on Air and storing videos on your official YouTube channel, then you may want to check your settings on the following page. Make sure that your account is in good standing and live events have been enabled.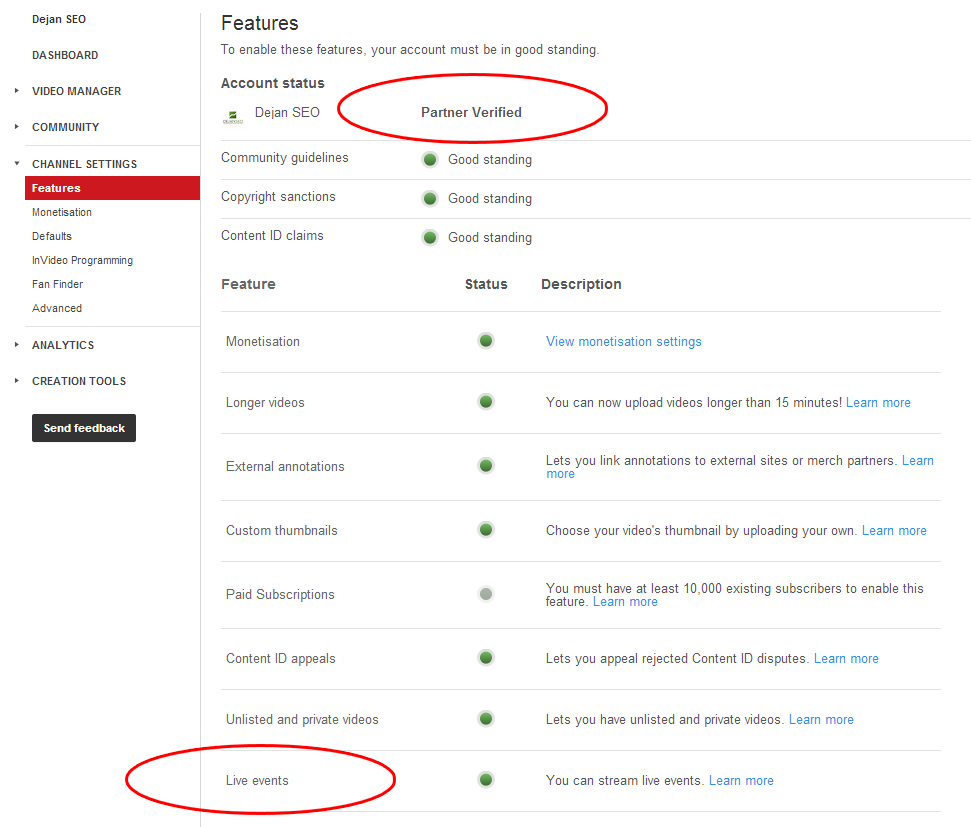 In the advanced settings you will be able to link up associated website, control channel recommendations, public subscriber count and add your Analytics account ID:
PS: Next time you log into your page you'll be greeted with a YouTube statistics module in your dashboard.

Dan Petrovic, the managing director of DEJAN, is Australia's best-known name in the field of search engine optimisation. Dan is a web author, innovator and a highly regarded search industry event speaker.
ORCID iD: https://orcid.org/0000-0002-6886-3211
---
---